Crime News
Newly Married Pregnant Woman Beaten To Death By Husband In Ikotun Lagos After Nigeria Croatia World Cup Match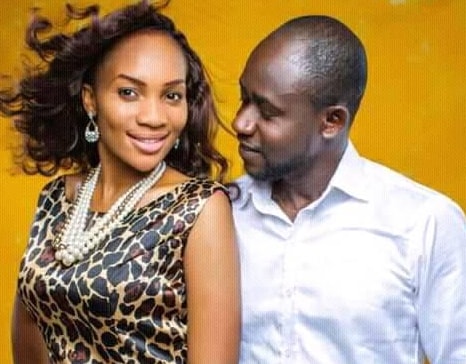 Husband Kills Pregnant Wife In Ikotun, Dumps Corpse In Parent's Home At Egbeda Lagos
Newly Married, Pregnant Woman Beaten To Death By Husband In Ikotun Lagos After Nigeria – Croatia World Cup Match
A mentally unstable man is currently in police custody for allegedly killing his wife in Ikotun Lagos.
The suspect, Samuel Mgbeodinma allegedly beat his wife to death shortly after Nigeria vs Croatia match on Saturday the 16th of June 2018.
The newly married man then put her corpse in his car and drove her to his parents home in Egbeda Lagos, parked the car and left.
He then called them around 9am on Sunday to inform them about the alleged murder.
The deceased, Gloria Onyedikachi Odinma was 6 weeks pregnant when she was murdered by  her husband exactly 4 months after their wedding.
Friends and family members of the deceased broke the news on the social media yesterday.
Here is how they broke the news on Facebook yesterday
A friend of Gloria, Mary Nanbam wrote:
"Oh God what's on earth is happening??? Sister excellent like I always call you please can you come back and explain this to me why am I hearing the news of your death everywhere and now it's all over the blogs that your own husband could do this to you… What a wicked world 3months of marriage now it's your demise, it's a big lie I still can't believe this, why will death snatch such a happy girl so so full of life a very dedicated member in my fellowship back then In school, same hostel during our ND my God just recently after we graduated I heard of her wedding while I was preparing for my own… And the last time I saw you was during school clearance and we collected our results The same day…my God, ohhh death where is thou sting??? why take away this one Gloria Onyedikachi Odinma am sorry this happened to you, person no marry na problem you come marry finish na still problem may God continue to help our homes what a great lost to Federal polytechnic Bida and to #Tacsfon members you will remain dearest to our heart rest on sweetheart". (NaijaGists.com)
Onyebuchi favour wrote:
"can't still believe you are gone my dearest sister and friend!!!!
Just when lines are beginning to fall in pleasant places for you……
The songs of joy we sang for you has turned to sorrow…….
Ohhhhhhhhhhhhhhhhhh, Majesty, if only tears could bring you back…
Just 4 months ago u tied d knot nd now u left us…..

#RIPmychiefbridesmaid
#RIPadaNgoforo
#RIPmajesty"
Alabi Dammy wrote:
"Tribute to my lovely friend
Gloria Onyedikachi Odinma
Ada I cant still believe my eye n my ears because am still down on Samuel death n Now urs again why why why u left so soon
I remember 2011 was wen we get to know each other we r not always in good term because u r igbo n I am Yoruba, always called me ngbati ngbati girl. As God ll have it we end up in d same church again n join d same unit Waooooooo I was happy just few weeks u left for another unit n we became good friends until now. Ur death as cause so many of us asking God y u again u never gave us sign Dat u ll Liv us so soon ohhhhhhh God Dis S a great lost to me n my course mate n Tacsfonite Bida chapter
We ll all miss u Ada.
May ur lovely soul rest in peace. Amen."
Adebayo Adedeji wrote:
"can't believe it's true,the memories of our close friendship back then in school still lingers in my heart. Ore Mi,this death is wicked,a strong Lady that doesn't keep issues in her heart,vibrant,blunt. I can never forget the time spent with u my dear friend and will for ever miss u…May God grant u eternal rest and console your husband,parents and siblings…GOOD NIGHT GLORIA ONYEDIKACHI ODINMA ADAOBI. EXCELLENT"
See photos of the couple when the going was good.