Crime News
I Don't Know My Mother, My Father Gave Me To His Wife – Boy Arrested For Selling Laptop For N3K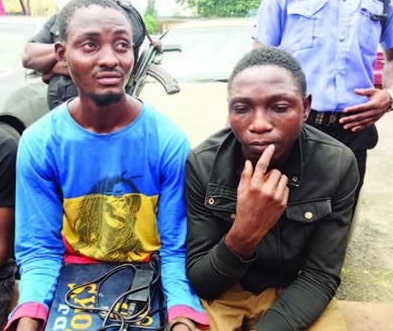 I Don't Know My Mother, I Have Never Seen Her Since My Birth..My Father Doesn't Care – Boy Arrested For Selling Laptop For N2K
By Yewande Fasan
A young boy has been arrested for selling a stolen laptop for N3000 out of  hunger.
The 14-yer-old pupil in Isolo Lagos said he was given N2,000 by the buyer, adding that he gave N1,000 to his 13-year-old friend.
The boy has transferred to the Gender Unit of the Police Command, Ikeja, said he usually slept at his stepmother's tailoring shop at Jakande Estate Gate, Isolo, in hunger.
He said:
"I was very hungry. I sleep inside the shop. I would be hungry all through the night without food. My father stays at Isolo but he gave me to his wife at Jakande Estate Gate.

"So, on Sunday around 8pm, I went into a shop and saw a bag. The shop was open. I took the bag and discovered it was laptop that was inside.

"I went to my friend, who is an apprentice painter near our shop and told him I found a laptop. He took me to his brother and his brother told us to return the laptop to where I found it.

"He told my friend to follow me and ensure that I returned the bag to where I saw it but, instead, we went to Ejigbo Complex to sell it.

"Inside a phone shop, we saw a man repairing his phone and asked him to buy the laptop. He sent us away that he was not interested.

"We begged for money to eat but he did not give us. We came again and asked if he knew anyone who can buy the laptop and he sent us to his friend.

"I told the second man that I wanted to sell the laptop for N8,000 but the man said he would pay N3,000. I sold it to him. He paid N2,000 and asked us to come back for N1,000 later.

"I have never stolen before and my friend did not steal with me. He only followed me to the place I went to sell it. I was hungry. I do not know my mother. I have never seen her since I was born and my father does not care for me."