Crime News
"I Was Idle, Idle Hands Are The Devil's Workshop" – Robbery Suspect Tells Police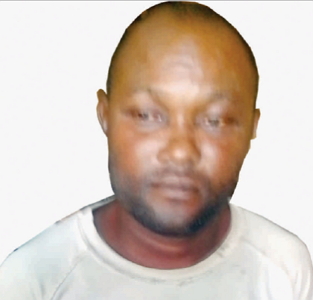 45-year-old Lawal Musa, a member of a three-man robbery gang arrested by the operatives of Ogun State Police Command has confessed that he joined the gang because the gang leader used to buy choice drinks for him when he was a jobless graduate in Abeokuta.
The other two members of the deadly gang are Adebayo Rasheed, 42,and Abayomi Amos, 25, the gang leader.
Police sources said the suspects squat with one of their gang members in rented apartment.
The arrest of Abayomi in military uniform led to the arrest of two other members of the gang, Adebayo and Lawal.
In his confession, Lawal said: ''I am from Aiye Kale Odiaye family in Ekiti and married with a kid. I am a taxi driver in Abeokuta. I don't have a taxi cab of my own, I am on a temporary job. I drive anytime I see a taxi cab to drive. I always deliver what I am expected to deliver and still get something to keep the body and soul together. If I get N2, 500 I deliver N1, 500 and take N1000.
''It is not every day that I get a cab to drive. Some days I used to be idle because no taxi cab to drive. Unfortunately it was in one of those days that I met Abayomi. I saw him in a cabin. I was going to Adatan near Itoko side. I asked him, are you a soldier and he said yes, that he was coming from naval dockyard. We then exchanged phone numbers.
''He said he used to come to Abeokuta every weekend and always loaded with money. Anytime he comes back he would ask us to 'celebrate'. He would buy choice bottles of drinks and plates of pepper soup. He used to buy me malt drinks.
''I did not know much about him. It is my 'long throat' (greed) that pushed me into this mess. One Monday morning I saw policemen who came to me and asked me whether I knew Abayomi, the alleged naval officer and I said I knew him as a naval officer because he told me that he is a naval officer. I believed him because he was kitted in naval uniform.
''I was idle and an idle hand is a devil's workshop, therefore, I could not find out that he was a fake officer especially when he was generous with money.
The second suspect Adebayo, a Business Administration graduate of Tai Solarin University of Education in Ijebu Ode, and father of three said he was formerly a commercial motorcyclist popularly called okada.
He said he met Abayomi during egungun festival numbers, followed by series of rendezvous in his apartment.
''I was arrested because Adebayo told police that he was coming from my house. I am not a robber. You can ask anybody in my community whether I have any bad criminal record.''
In his confession, the gang leader, Abayomi described Musa and Adebayo as liars and denied being the leader of the gang.
Abayomi said he stole the military uniform from the apartment of one of his friends in Dodan Barracks, Lagos.
He said he only wore the uniform to pose as a big boy and not to rob.