Crime News
The Day Evans The Kidnapper Collected 100Million Naira Ransom To Free Donatus Duru – Witness Tells Court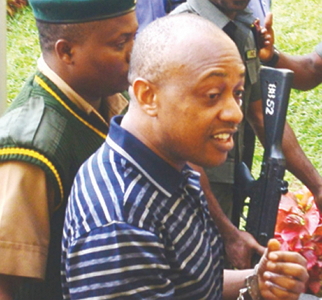 A key witness in the ongoing trial of Chukwudimeme Onwuamadike a.k.a. Evans, Uchenna Okagwu, told an Ikeja high court on Fridaythat he paid €233,000 (Euros) in order to secure the release of his boss, Donatus Duru, from his captivity.
Okagwu who is the second prosecution witness, narrated to the court how the money was paid.
The Manager of Maydon Pharmaceutical Company, owned by Duru, told Justice Hakeem Oshodi that he sent by courier, the ransom price of €233,000 to a location somewhere in Okota, Lagos.
He said the money was delivered to those holding his master hostage there. Okagwu was led in evidence by the Director, Directorate of Public Prosecution (DPP), Titilayo Shitta-Bey.
He stated:
"Following the news of the kidnap of my boss on February 14, 2017, we waited to hear what his kidnappers would say, so that we may rescue him."
He added that being the manager of Idumota branch of his master's company, he worked to raise money for his ransom.
He explained that based on the kidnappers' instruction, he took the sum of €233,000 counted at the residence of the victim's brother, Anselm, in Anthony village, to the designated point where the culprits picked up the ransom.
Okagwu said that Anslem who had earlier been communicating with some people on the phone, handed his phone to him and told him that the kidnappers would call him while in transit, and tell him where to deliver the money.
"Anselm gave me his phone saying that it is with his phone that I will be receiving calls directing me…As I moved out around 8pm that night, I started to receive calls.
"I just heard the voice saying I should not make any mistake and that I will be shot if I did," he said.
" I was asked if I know the way towards Mile 2 and I said yes. I moved out of the compound towards Mile 2.
"On the way, I received another call and I asked if I should follow 'Oshodi Isale or Oshodi Oke and they said I should follow Oshodi Oke. I was driving slowly so I entered the service lane so I won't cause traffic.
"I was asked to enter the expressway when I got to Ijesha so they will not collect the money from me.
"I was asked if I know the eatery at Apo junction and I said yes and was told to park there. I waited for about 15-20 minutes and was directed to move to Apo junction at FESTAC inside. I was asked to put on the inner light of the vehicle and drive slowly.
"They directed me towards Okota; from there, I was told to enter a street immediately after the canal where okada riders (commercial motorcyclists) usually stay to carry passengers.
"I was again asked to drive down the street and was asked to describe everything I saw and should tell them when I see a blinking light on an electric pole.
"I was told to turn back at that point and left from where I entered. Getting there, I was told to turn back again towards where I came from to the end of the street and told to turn back again.
"At a point, I was asked to park, get down from the vehicle with the ransom money and walk back.
"As I walked to the back of my vehicle, like three steps away, I was asked to drop the ransom and I did and was told to move immediately after dropping the money.
"When I looked around, I only saw a vehicle parked at the beginning of the street with full lights on, the vehicle looked like an SUV."
During cross-examination, defence counsel to the first, second, third and fourth defendants, Olukoya Ogungbeje, asked if he saw anybody when he dropped the ransom or gave it to anybody directly, the witness said he did not see anybody nor gave the ransom to anybody directly.
The case has been adjourned to June 22 by Justice Oshodi .