Crime News
Ifa Priestess Luring Victims From Facebook & Kidnapping Them For Ransom Arrested In Egan Lagos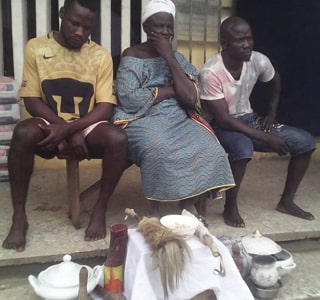 Ifa Priestess & Yahoo Boys Operating Kidnappers Den In Egan Lagos Arrested, 2 Victims Lured From Facebook Rescued
A 60 year old woman and her  sons are currently in police detention for operating a kidnappers den.
Aminat Ajibola, an Ifa priestess, her sons, 32-year-old Akeem Bashiru and 26-year-old Solomon Ojo, 26, according to the police, operated a kidnappers' den at 15, Irepodun Street, Egan, a Lagos suburb.
They allegedly stalked their victims on Facebook, lured them out and kidnapped them for ransom.
They were arrested following complaints by a woman, Bridget Obazee whose brother Osahon was kidnapped. The complainant reported to the Igando Divisional Police Officer (DPO), Taiwo Kasumu, a Chief Superintendent (CSP), on Friday that her brother, had been missing for days. She said those keeping him were demanding N1.5 million ransom or he would be killed.
In a statement yesterday, police spokesman, Chike Oti, a Chief Superintendent (CSP), said the kidnappers warned the woman not to involve the police.
Oti said:
"The DPO quickly contacted Police Commissioner Imohimi Edgal, who reinforced his team with men drafted from the intelligence unit of the command and together, they left in search of the victim.

"Through discreet investigation, the suspects were arrested at the location around 11am that day. Two victims were also rescued from the apartment.

"The victims are Fadugbagbe Akindele of 7, Peace Crescent Salolo, Meiran, and Augustine Ekwegbalu, who was lured from Anambra State, with the promise of a job in an oil company.

"They had been held for weeks by the kidnappers pending payment of ransom by their families. All those rescued had been identified and reunited with their relations."
According to Oti, Ojo confessed that he lured victims with promise of job offers or same-sex relationships.
The suspect, he said, confessed that their mother empowered them spiritually. He quoted the suspect as saying that she used charms to intimidate and instill fear in their victims.