Crime News
Innocent Driver Who Spent 9 Years In Prison For A Crime He Didn't Commit Recounts Ordeal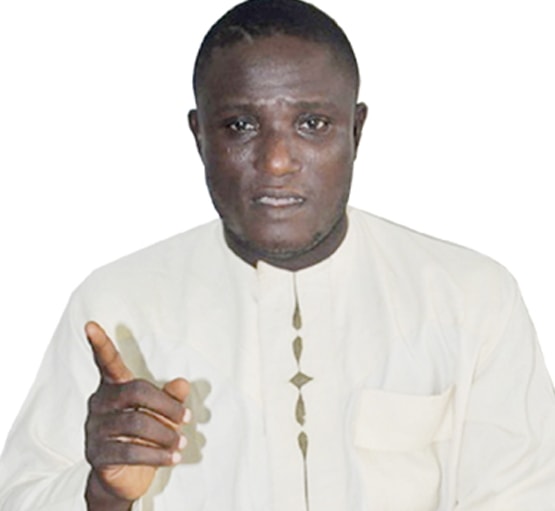 Report By Biodun Adeyewa, The Nation
Innocent Driver Shot By Clueless Police Commander Recounts Ordeal After Spending 9 Year In Jail
For Mr. Abiodun Taiwo, a 43-year-old transporter, February 7, 2009 is not just another day in the calendar. It was the day he set out for work only to end up in prison where he spent nine odd years of his life for a sin he insists he knew nothing about.

Like he always did, he had set out from his Imota, Lagos State home in the Camry car he used as a taxi. He had worked till about 11 am and was dropping off passengers at Ikorodu garage in Lagos when two men approached him and asked if he could take them on a private trip.
"This was business for me, so I asked them where they were going to. They told me they were going to J4, in Ijebu Ode (Ogun State). I asked them to pay N15,000, but they negotiated for N10,000 and I told them to add N500 to it because I would need to sort out the way bill at checkpoints. The two men agreed to N10,500 and we commenced the trip."
Taiwo, however, said he started growing suspicious of the two passengers when they told him that they were actually going to a party, but the car that was supposed to take them there disappointed. "I felt that the driver must have disappointed them because they did not want to pay the right fare," he said. He recalled that when they got to a spot after Imota town, one of them said they would like to pick two of their friends at Agbowa because they were all going to the party together.
"I obliged them because I had already charged them for a full trip," he said.
"When we got to Agbowa, we picked the two people who wore the same ankara ceremonial uniform they were wearing. Since they previously told me that they were going to a party, it just seemed normal to me, so we continued the journey.
"Along the way, I stopped over at a filling station and requested for a part payment of N5,000 so I could buy fuel, and they agreed. I bought N3,000 worth of fuel and kept the remaining N2,000 in my pocket. I had concluded within me that once I dropped them off, they would give me the balance of N5,500 and I would return to my base.
On getting to a town called Itokin, we saw a police checkpoint. The policemen stopped us and requested for my particulars. I gave them everything they requested. At another checkpoint, we saw another set of policemen. I gave a token and we continued the journey.
"On getting to Ijagun, we saw a highway patrol team of policemen. They asked me to park the car and I did. Then one of the policemen asked why we were all men in the car. I explained that it was a chartered trip, and he said it was fine.
"He requested for my particulars and inspected the car's boot. He said it was all fine, but he requested that I buy a drink for him. I gave him a token and was about to start the car when his boss asked me to stop. He queried the fact that I had only male passengers in my car and I explained to him that it was a chartered trip. He asked all of us to alight from the car so he could search the car. So I asked the passengers to alight for the policemen to carry out their search. To my surprise, the four passengers refused to alight. Their action attracted the attention of the other uniformed men at the spot."
Taiwo said at the initial stage the men refused to alight, he thought that they might be men of authority or influence. "So, I was a little hesitant but confused. When the policeman opened the front door where one of them was seated, one of the three in the back seat brought out a gun and began to shoot. The policemen took cover and the four men alighted and ran into the bush.
"I stood rooted on one spot in shock and disbelief as the entire scenario played out. When they recovered from the initial shock, the policemen started shooting in the direction of the suspects while they also shot back.
"By the time I came back to my senses, I could not take my car and I did not want to run so the policemen would not kill me. They kept shooting and the robbers who also kept shooting back. No vehicle passed on either side of the expressway.
"As I stood rooted beside my car, I began to hear the sound of siren coming in our direction. An army entourage drove towards us in their pickup van and a jeep.
"When they reached our location, which was close to Ilase Barrack, they stopped and asked what was happening. The policemen told them some robbers had escaped into the bush but they could not enter the bush to fish them out.
"The soldiers entered the bush and left their commander standing with the policemen. The commander asked the policemen who I was, and they said I was the one who drove the robbers to the location. He did not even wait for the rest of the story before he shot me in the head and I fell down. But I thank God that the bullet only scraped a part of my head. I passed out for a while before I regained consciousness.
The way to prison
"By the time I woke, I was drenched in blood and found that three of my passengers were lying dead on the ground. The remaining one was shot in the leg but terribly wounded. They packed all of us into the back of the police pickup van and took us to the police station at Igbegba. When we got there, they interrogated us and threw us into the cell.
"The next day, they brought me out with the surviving suspect and asked him who his accomplices were and their hideout. He described the place to them. They took him in their vehicle and went to the location he had described while they sent me back into the cell.
"The policeman who led the team to Ijebu Igbo was called Oba while one Sergeant Wasiu Tijani went with him. They returned from the raid with three other suspects. Then on the third day, they went to search the houses of the three men who had just been arrested and found guns.
"When they got to the house of the third man, they found nothing, but they took away his property. They said because of the time that was left, they could not conduct a search at my house, so we waited till the fourth day.
"On the fourth day, we left for my house at Imota. They searched everywhere but could not find anything (incriminating).
"My wife had already left the house, because when she did not see me, she called my mum and explained my absence. My wife left for Ijebu Ode to meet my mother. So the policemen broke in and searched everywhere but didn't find anything.
"When the people who live in my area saw them, they all fled for safety. The only person who had the guts to make enquiries was dragged by his trousers and was about to be thrown into their vehicle before I pleaded for him for mercy.
"One thing they did that surprised me was that they selected some of my good clothes and packed the drinks, the deep freezer and the generator I bought for my wife, because she was selling drinks from the house. I was still planning to get her a shop for her business.
"By the time we got back to the station, it was already evening, so they sent us back into the cell. They didn't attend to my medical needs at all. On the way back to the cell, they discussed amongst themselves that if I were indeed an armed robber, I would have more exquisite things at home than the freezer, generator and clothes that they packed. When we returned to Agbowa, they packed at a restaurant, opened my deep freezer and took drinks with their food. When they finished, we went back to Ijebu Ode Area Command. That was around evening. They locked us all in the cell. The robber who was shot in the leg eventually died that night.
"On the fifth day, they then brought us out one by one and started asking for our statement. I was then left alive with the third person that was captured. Our lives were spared because they didn't find guns in our houses. We were strangers to each other.
"They brought us out for questioning and asked me to tell them about the four men I was driving. I told them the truth. I had never met them in my life before that day, and I didn't know anything about them other than the fact that I was a driver taking my passengers to their destination.
"That infuriated them and they started beating me. They said I didn't want to confess to my crimes. The soldiers returned to the cell and also tortured me, asking me to confess to crimes I didn't know about. Because I was not learned, and I didn't know how to write, they wrote something different from what I said.
"When the officer was done writing, he asked me to sign the document. I told him since I couldn't read, he should read what he wrote to me. He ridiculed my lack of education and slapped me. When I considered all the torture I had experienced, I signed the paper, not knowing the contents.
"Two weeks later, we were moved to Eleweran. When we got there, they packed the items they recovered from the dead robbers and told the new officers that the items were recovered from members of our gang who they had shot dead. The officers didn't even wait to hear anything as they began to beat us again. It was not a palatable experience.
"The officer in charge of the case at Eleweran requested for a statement from me. The officer who brought me warned me not to say anything other than what they already wrote in the statement, which was their word against us. They made it clear that they were not willing to listen to our sides of the story. So, they did not write anything afresh and we had to sign it.
"They told their colleagues that we were members of a deadly gang. This was on the 15th day of April, 2009. I then left everything to God and stopped talking.
"When my parents heard that I was moved to Eleweran, they came over to the station. My father was the Chief of our town, so the officers removed his beads and threatened to throw him in jail if he did not pay N50,000. My father gave them the N50, 000 before he could be allowed to see me.
"On seeing me, my father broke down in tears and asked what really happened. I told him the truth and it infuriated the officers who started beating me afresh. They told me to tell my father I committed the crimes, otherwise they would kill me before nightfall.
"I had heard news of how easily it was for them to kill people in that station, and I knew that if I didn't say what they said, I would end up dead. So I told my father, "Baba, I was told to tell you that I stole." I knew that my father would understand what I meant, seeing that I was forced to confess to a crime I knew nothing about. That was how my father left."
Encounter with cell doctors
Salami recalled that his head injury healed after he had taken care of it by himself with help from some inmates he met in the cell.
He said:
"While I was there in the cell, the wound on my head healed as I took care of it by myself. The inmates I met in the cell, who had different types of gunshot wounds advised me to pour hot candle wax on the wound so the heat would kill any bacteria that tried to thrive.
"Eventually, we were taken to the Ijebu Ode Magistrate Court 2. That was about seven months after. From Eleweran to the station, we spent two months. They took us to the court on September 2, 2009. "They first took us to the magistrate court which didn't have anything to do with capital offences other than to keep adjourning till the 'PI' advice from the DPP would arrive.
"My family members kept struggling to bail me because that was the only thing they felt they could do. While we were in the cell. As for me, I began to pray in the cell. I prayed that I knew God had a plan for me to have been involved in this problem. If not, I should have died with the others. So I began to ask God to reveal the purpose to me.
"So I began to pray regularly. In less than two months after I got there, I was made the pastor in the cell. So, every morning and evening, I would handle the prayers for them. Little by little, I became more intimate with them as I conducted services.
"As they called me pastor, I continued in the path God showed me. Later, they made me an interpreter for services during weekly and Sunday services. I interpreted for the Sunday school teacher and even the pastors who came regularly to speak to the inmates.
"I kept at it and continued. I couldn't speak English but I understood it when it was spoken and could interpret it. So despite no ability to read or write, I grew in the calling of God upon my life. As time progressed, I was made a commissioner of police, which was the highest rank in the cell. And we oversee maintenance of law and order in the cell.
"Afterwards, I was made the CJ, then IG who was the person who handled every money that was brought into the cell. After that, I was promoted to Adviser, who was the closest to the Provost, the highest rank in the cell.
Free at last
"In 2013, advice arrived that we were guilty and had a case to answer. Before it arrived, I met with a Pastor called Favour, from Foursquare in Ijebu Ode. I used to interpret for him whenever he came to preach and he really liked me. Whenever he came, he used to give me gifts as much as he was able to give at the time.
"When the case got to the High Court in 2015. Investigations commenced and eventually in August 2017, the judge said he didn't find anything in all the findings and we were free to go. My father was already old and had sold everything he had just to ensure I came out of the prison, including my uncompleted building on my piece of land. My wife took our five children and dumped them with her mother in Sagamu then went ahead to marry another man.
When I came out of the prison, 17th August, 2017, I went to my father's house and started living there. When I arrived home, people rejoiced with me because they were happy that I was now free.