Entertainment News
Comedian Klint Da Drunk Wife Files For Divorce, Moves Out Of Husband Home As Baby Mama Renders Marriage Loveless
Klint Da Drunk Wife Lilien Divorces Husband, Moves Out Of Matrimonial Home After Adultery, Baby Mama Dram Turns Marriage Into Loveless Union
According to Germany-based Nigerian blogger Stella Dimoko sources, Klint Da Drunk has adopted two cats months after his beautiful wife, Lilien packed out of their matrimonial home over her husband's adulterous relationship that produced an out of wedlock child with another woman.
In March of this year, one of Klint Da Drunk mistresses Sandra Novo Jacob revealed that the comedian is the father of her child.
Even though the comedian rejected the paternity of Sandra's baby, DNA test later confirmed it.
After all effort to appease Lilien who at that time almost lost her mind, she moved out of the comedian's Lekki home with her 3 children in May of this year.
Since then, the couple have maintained a close bond.
Lilien eventually confided in a friend who leaked the details last week.
Here is the lady that separated Klint from his beautiful wife.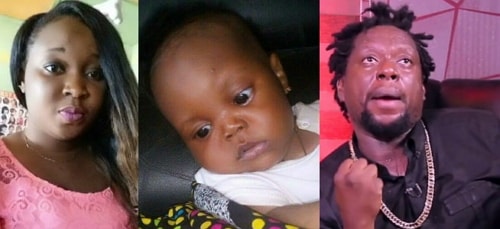 This is what Sandra leaked on the social media in March before Lilian gave up on her marriage.
See the beautiful family adultery pulled apart.
So sad.!!
Hope they come back together soon for the sake of these lovely kids.
If he has truly repented, Lilien should forgive him because these kids will surely be missing their father especially the little girl.
See what Lilien posted on her Instagram page @prettylilien after the news of her marriage crash broke today.
https://www.instagram.com/p/BrRzXsvhvtq/
Klint Da Drunk on the other hand is busy with his career.
He was in Warri few days ago.
See the latest video he shared via his Instagram page below