Crime News
Lagos Markets Where Cancer Causing Chemical, Calcium Carbide Is Used To Ripen Banana & Plantain Exposed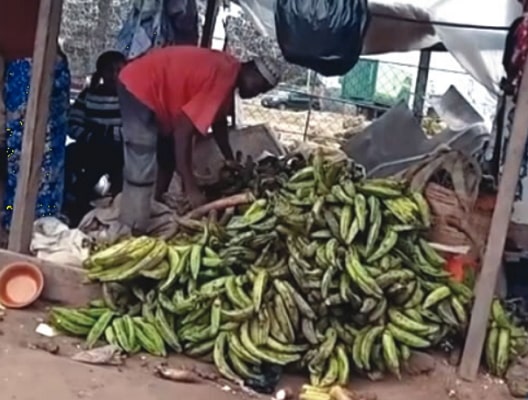 Exclusive report by Samson Folarin, Punch
Lagos Markets Where Cancer Causing Chemical, Calcium Carbide Is Used To Ripen Banana & Plantain Exposed
Calcium carbide experiment
Samson Folarin obtained samples of two fruits – banana and plantain – to test them for calcium carbide.

The experiment, which was done few months ago, covered Gbagada, Ketu, Mushin, Ikeja, CMS, Ajah and Lekki areas of Lagos.

Ten samples of fruit collected from the areas were taken to Searchgate Laboratories Limited, an accredited analytical laboratory services company and member of the Institute of Public Analysts of Nigeria.

After a week of analysis and testing for ripening with calcium carbide, the results were returned.
According to the report, seven of the 10 samples were ripened with calcium carbide, while three were ripened through a natural process.
"All samples that are physically suspended (x) are artificially ripened with calcium carbide, while those not physically suspended (-) are not artificially ripened with calcium carbide. In addition, all samples analyzed are found containing hazardous elements: arsenic and phosphorus are artificially ripened with calcium carbide and those that do not contain the mentioned elements are not ripened with calcium carbide.

"In conclusion, the results above indicate that the samples from Ketu (banana and plantain), Ajah (plantain), Lekki (banana and plantain), Ikeja (banana) and CMS (banana) are all ripened with calcium carbide, while the samples from Kosofe (plantain), Mushin (plantain) and Gbagada (plantain) are not ripened with calcium carbide," the report from Searchgate said.
There are, however, arguments on the two elements (phosphorus and arsenic) highlighted by the laboratory as evidence of calcium carbide.
A scientist, who did not want to be identified, said while arsenic might be poisonous and injurious to health, phosphorus was a needed nutrient present in all fruits.
He noted that it was difficult to test the use of calcium carbide in fruit ripening.
"Phosphorus is a nutrient present in virtually all fruit. However, arsenic is poisonous. It is a toxic heavy metal and affects the renal system. It is not only in calcium carbide that arsenic is found. It can come from the soil where the fruit is planted. The fact that I see arsenic in fruit does not totally mean calcium carbide is used to ripen it," he said.
The World Health Organisation may have also confirmed this when it said arsenic is naturally present at high levels in the groundwater of many countries.
The WHO, however, said long-term exposure to arsenic could cause cancer and skin lesions, adding that it had been associated with cardiovascular disease and diabetes.
Sweet fruit, slow death
An emeritus professor of Food and Environmental Chemistry, Faculty of Science, University of Lagos, Bolanle Osuntogun, said accumulated effect of taking chemically-induced fruits might be responsible for inexplicable cancers in the society.
She said,
"The use of calcium carbide is toxic to the human body. Arsenic is one of the heavy toxic metals released which affects the body. It could have adverse effect on the kidney and the liver.

"The effects are not immediate. They take time to manifest. There are many things that cause cancer now that people simply cannot explain. That is why cancer is endemic now. While we can say explicitly that smoking causes cancer of the lung, there are other forms of cancer that are hard to pin down to anything."
The Head of Department of Family Medicine and Consultant, LASUTH, Dr Shodipo Oluwajimi, said the case of the late journalist, Emmanuel Okwuke, might not be isolated.
He explained that the problem most times was that unlike Emmanuel, many patients who visited hospitals with similar symptoms could not recall the last thing they consumed.
Oluwajimi said the diagnosis was, therefore, usually mixed up.
"The truth is that most of the cases are under-diagnosed. Most of the time patients present with features of gastroenteritis (stomach flu). Maybe they have taken a meal or taken some fruits and they developed some passage of loose stools, some abdominal pains and fever.

"However, a lot of time, the patients may not be able to give you an accurate history of what precipitated that. So, what we noticed is that we have been missing a lot of the diagnosis that have been occurring. It is therefore difficult to directly link the use of these substances. This may also be because a lot of people take these fruits and vegetables as part of their regular diet," he added.
The doctor, however, said the traders applying the chemicals were more at risk because they had direct contact with the substance.
NAFDAC Reaction
The Director, Food Safety and Applied Nutrition, NAFDAC, Sherif Olagunju, said the agency had also gone rounds market in the country, including Lagos, to conduct tests on fruits, using local and international laboratories.
He said over 2,000 samples had been collected from the six geo-political zones.
The director noted that although the results were mixed, with some 'good' and others 'not too good', there was nothing yet to warrant a declaration of an emergency.
"Internationally, artificial ripening is not something that is not permissible. It is permissible under certain conditions. In the case of ripening of fruits like plantains and oranges, one of the approved agents is ethylene gas. It is safe because it is natural.

"However, when people take calcium carbide and put water into it, it emits a gas called acetylene. Acetylene behaves the same way as ethylene, but they are different.

"What they do locally is to put the plantain on a pallet and then put the carbide under. They put water into the carbide and the gas is emitted.

"When the acetylene gas touches the body of the plantain, it ripens it. The gas, however, is not usually retained on the body of the plantain making it difficult to test for the gas on the plantain.

"But when they were applying the gas, some particles or dusts of the carbide falls on the plantain. If you pick any of the plantain that the particles fall on, then you can identify certain contaminants that are in the carbide and then you can analyse it."
Olagunju said the agency had intensified efforts at public enlightenment, adding that some markets had also been placed under constant surveillance.
He noted that to discourage the use of calcium carbide for fruit ripening, the importation of calcium carbide had also been placed under restriction.
"An importer of calcium carbide is required to obtain from the agency Permit-to-Import a certain justifiable quantity every year. The importer is also required to obtain Permit-to-Clear any importation any quantity within limit of approved quantity on the permit to import. If not an end user, the importer is expected to obtain a Local Purchase Order from a verified end user," he added.
The director said NAFDAC inspectors now monitors the storage, use and distribution of calcium carbide, adding that a fraction of the chemical used by artisans in the unorganised private sector, especially welders and panel beaters, might be the source of leaks leading to misuse.
The Director, Pharmaceutical Services, Lagos State Ministry of Health, Mrs Moyo Adejumo, while saying that the use of calcium carbide was rampant, urged residents of the state to report any use of the substance in fruit ripening.
"The Ministry of Health and NAFDAC have been creating awareness and encourage members of the public to make report to relevant authorities. Where there is concrete evidence that this chemical is being used in artificial ripening of fruit and vegetables, we encourage prompt reporting for action," she added.
The Iyaloja General of Lagos State, Folashade Tinubu-Ojo, declined response despite repeated calls and test messages from our correspondent.