Entertainment News
Linda Ikeji Pregnant For Femi Otedola & Dangote Errand Boy, Sholaye Jeremi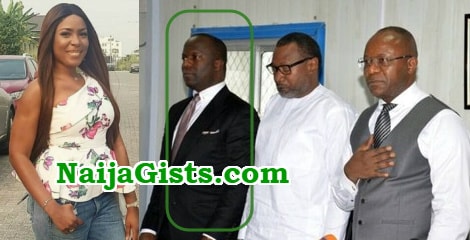 Nigerian bloggers are definitely confused as to the exact occupation of Linda Ikeji's baby daddy.
While some said, Sholaye Jeremi is a Minister of ????? other said he is an errand boy to wealthy Nigerians like Aliko Dangote and the like but whatever the case is, Jeremi is yet to officially distance himself from the report.
A blogger who just opened a new Instagram account has spilled the beans on Sholaye Jeremi's true colour.
Here is an explosive message  @naijagistlive2018 wrote about Linda and her baby daddy.
" These two stupid old buffoons have been fucking since 2016 off and on. Both are desperate social climbers who understand what it means to do the needful to belong to the upper class. Sholaye was a ratchet model back in the UK and Linda also a local info girl that started her career modelling.

So you see why I called them two overgrown buffoons. they are actually birds of the same feather but I can assure you they will never flock together. Sholaye is known for wanting to be seen with daughter of the rich, older successful women and the likes. He will drive his rolls Royce around town whenever he needs to prove a point.

Yet he lives in a rented apartment in parkview ikoyi. Sholaye the pimp and house boy of Femi Otedola, Dangote, Musa Danjuma, Terry Wayas and more has no plans of marrying Aunty Linda. Linda thought she had found Prince charming. she left her brain in her banana island mansion which was bought by an Oil Magnate BP (if you know, You know ) and jumped into the hands of a man who is the typical definition of a cheap pie, so greasy and smooth at the top with all kinds of rubbish inside. as we speak right now, Linda has been begging Sholaye to save her the embarrassment contrary to her stupid epistles she has been writing these past days.

LINDA IKEJI is actually shook to her bones, Her entire family especially her father has done everything to make Sholaye marry her and he blatantly said NO. Linda I am sorry to break the news to you, You are a rejected BABY MAMA just like all the other ones you have made fun of. Your struggling sister and her stupid husband can barely feed themselves that is why the only work she can do is to the be family's town crier.
Whatever is happening to Linda is the law of Karma, in the early days of her career, she used to do aproko so much that at a point she cooled down after several legal threats.
Since Karma is a B****, her past is now hunting her.
Please pray for Linda before you sleep tonight…  Make we dey look in 3D glasses.