Crime News
Man Butchers Girlfriend; Leaves Chilling Messages On Machete Used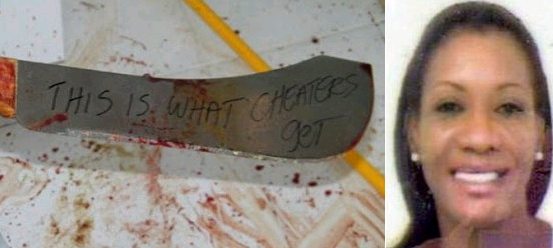 June 13, 2012 – Man Butchers Girlfriend; Leaves Chilling Messages On Machete Used
According to a report from the daily mail, a 50-year old man named Prince Hepburn in the Bahamas recently butchers his girlfriend, Nellie Brown-Cox for allegedly cheating on him. naijagists.com
Investigators found the above blood-soaked machete with chilling message along side the body of Nellie Brown-Cox (pictured above).
The machete used in the murder was left with this haunting message
'This is what cheaters get'
42 years old Nellie Brown-Cox's body was found mutilated
Another chilling message was scrawled onto the other side of the blade that read 'Your Next George Sawyer'.
Hepburn, believed to be Miss  Brown-Cox's boyfriend, was found at the scene with slash wounds to his  wrists and was arrested on suspicion of murder.
He is now believed to have admitted to the slaying of the secretary in the Bougainvillea Boulevard area of the Bahamas.
The grisly scene was found by police when they attended reports of a stabbing at an apartment in the area at 9.20pm on April 7.
A  report filed by detectives in the Bahamas read: 'As a result a team of  homicide investigators and crime scene investigators were dispatched to  the scene.
Upon their  arrival on the scene officers observed the deceased was lying face up on the kitchen floor near the door with her head in a western direction  and her feet in an eastern direction with a cutlass under her right  foot.
Police claim the self-employed contractor had admitted to killing the deceased and had attempted to take his own life by cutting his wrist and taking some pills.
He remains in police custody, after hospital treatment, on suspicion of the murder (credit: daily mail)
God have mercy!