General
Meet Pa Amodun Alimi, 82-yr Old LASU Graduate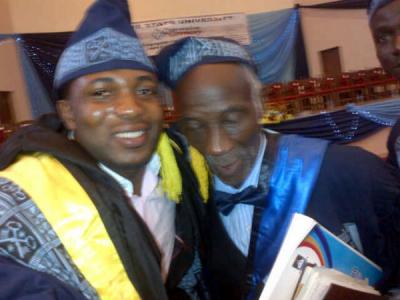 June 13, 2012 – Meet Pa Amodun Alimi, 82-yr Old LASU Graduate
Pa Amodu Alimi, an 82-year old man has received a bachelor's degree in Sociology at Lagos State University. Pa Alimi who gained admission into the university in 2007, underwent a full-time course. He was among the 22,033 others who graduated, among whom were 41 who made first class.
The Faculty of Science produced 13 first class graduates, while faculties of engineering and communications produced 10 and seven first class graduates respectively.
Speaking at the convocation ceremony for the award of diplomas and degrees today, the Vice-Chancellor of the University, Professor Oladapo Obafunwa, said that 8,903 graduands who underwent full-time programme, received diploma and degrees while 13,130 others constituted graduands from the part-time programmes of the institution.
He said that the university had put in place a number of innovations to curtail financial leakages and channel the savings towards promoting academic excellence.
"Since my assumption of office in 2011, we have ensured accountability that would be channelled towards activities that are germane to the primary roles of a university, which includes teaching, research and community service," Obafunwa said.
He noted that the state government had also embarked on infrastructure development in the institution to meet human capital development requirements.
"With the development, we would be able to meet the requirements of the National Universities Commission (NUC), for institutional and academic programmes accreditation," Obafunwa said.
He said that already, the institution had begun preparation for the take-off of new programmes such as Agriculture, Aeronautical Engineering and Civil Engineering.
Obafunwa also noted that in line with the ongoing transformation agenda in the university, the institution would ensure that students were able to access their results and academic profiles on time..
The Vice-Chancellor also said that the Lagos State Government had directed the management of the university to phase out the LASU external system.
"In compliance with this directive, the university has stopped forthwith to admit students into academic programmes in our External System in order to give way to more formidable LASU.
"However, existing students of the system will be allowed to complete their academic programmes and graduate accordingly," he said.
Obafunwa urged the graduands not to rest on their oars, as it takes doggedness, persistence, consistency and clear vision to get to the top.
"You are being released to the larger society to contribute to societal developments in your various fields of endeavour," he said.