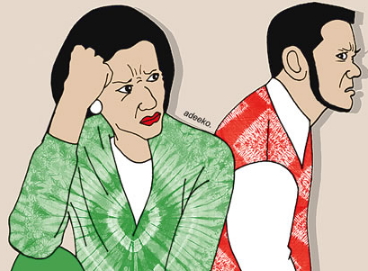 Alhaji Muritala Bolaji Kareem on Thursday told a Somolu Customary Court that his first wife was 'irresponsible' and spends a sum of N30,000 on body cream.
34-year-old Kareem also accused his wife, Toheebat Mojisola Kareem of defamation against his person.
He urged the court on Thursday to dissolve his 10-year-old marriage with Mojisola.
His words:
" She said I do not take care of her but I took her and the children to America and I spent about two million naira, I even bought land and car for her. She uses a cream worth 30,000, I took care of her expenses while she was at school, women are ungrateful, I buy clothes for her. She uses our children to threaten me.

''I want to divorce her because she tarnishes my image, by saying things I didn't do, like I am the one who made her to drop out of school , and that I do not take care of her, which isn't true. I married her with a child for another man, I am the one who takes care of that child, and the other two she has for me.

She picks fight with me, after every two months I noticed that she goes home(sic); in fact one day she was cooking for me then the next thing she left the house without telling me. That night, her mother called me, I was like nothing happened, she told her mom powerful things about me. She is irresponsible, and she has no respect for me and my child. I no longer enjoy her.''
Responding to the accusations, Mojisola said:
"I am now Mojisola Bakare formerly Mojisola Kareem, there is no love, no respect or trust. He insults me a lot, he doesn't sleep at home. I take care of my problems myself. My child fell inside hot water,yet, he doesn't care about me and (my) children's welfare. We live together because my room is inside the main building, his office is outside, and that is the only benefit I get. There is always problem and he stopped sleeping at home.

"It is not good not to have a job as a woman. Illiteracy is a disease, I beg before I can attend a party, but the other wife can go out with confidence. When I see him, I would be scared, but now I am free from that, God will help me take care of my kids. Everything he owns is in the second wife's name.''
The case was adjourned to the 22nd of May 2018.