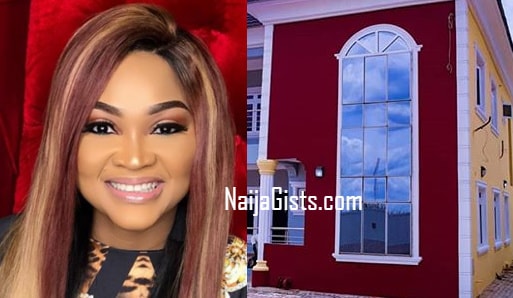 Mercy Aigbe New House Located In Ogudu Ojota Lagos: Actress Allegedly Buys House Abandoned By First Owner For N25 Million
Mercy Aigbe House Address And Location In Ogudu Ojota Lagos Revealed
How Actress Showed Bravery By Purchasing House Abandoned By First Owner 2  Years After
Fearless Nollywood actress Mercy Aigbe's best kept secret has been exposed.
The single mother of two who told fans of her newly built home somewhere in Lekki Lagos has been called out by sources who went on a fact-finding mission to figure out the exact location of the actress new home.
Well as fate will have it, a source who trailed the actress while returning from an Owambe party has seen the exact location of the house.
Even though the source requested that we do not disclose the exact address for the safety of the thespian, we can exclusively confirm with you that Mercy Aigbe house is located in Ogudu area of Ojota Lagos.
How Mercy Aigbe Bought Her House At Steal Price From A Bewitched First Owner
According to information released by her neighbours, the house located on a quiet street in Ogudu area of Ojota was abandoned by the first owner in 2016 over a spiritual attack on his finances.
Exactly 2 years after the owner packed out, the actress picked interest and bought it at an insanely cheap price of 25 million Naira.
The house worth over N200million was reportedly sold to the actress in a hurry as the owner had been suffering from what the Yorubas called Agbana, the curse of spendthrift.
The smart actress immediately hired professional exterior and interior home decorators to turn the house into a master piece.