Information Portal
How To Become Bet9ja Super Agent: Requirements, Commission Percentage & How To Start Working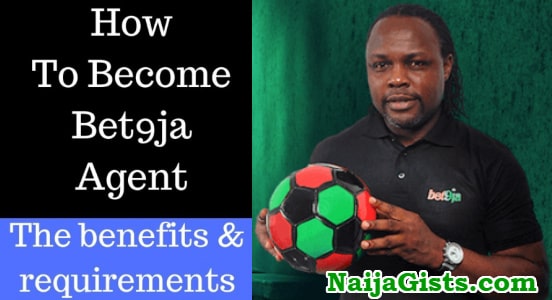 How To Become Bet9ja Super Agent: Requirements, Commission Percentage & How To Start Working
This article is a business guide, specifically designed to provide you with step-by-step guidelines on how to become Bet9ja super agent. The guide outlines every key piece of information that an aspiring Bet9ja super agent needs to know.
Bet9ja is a renowned sports betting company in Nigeria, which is worth billions of Naira in asset and revenue. The company have branches in every nook and cranny of Nigeria. And as a fast growing business, they are still expanding; hence, they are always looking for representatives/agents from all over the country to facilitate this expansion. So, if you are interested in becoming a Bet9ja super agent, follow this article with rapt attention.
Sports betting, prior to 6/7 years ago, was relatively unpopular in Nigeria. Although betting companies (including Bet9ja) were very much around at this time, they were relatively unknown.
Today, the story is completely different: sports betting is now a booming business in Nigeria, with tens of millions of youths (and even old folks) actively participating in it. And the major purveyor of sports betting in Nigeria is no other than Bet9ja – the foremost betting company in the country.
How To Become Bet9ja Super Agent
Read on to get comprehensively enlightened on how you can become an official representative of Bet9ja in your area, and join the league of their super agents in the country.
How to Become a Bet9ja Super Agent In Ogun State
Ogun state is one of the strongholds of Bet9ja in Nigeria. In fact, the state is the home-base of the company's founder, Kunle Soname, who originates precisely from Remo town in Ogun state. As such, the company is always looking to expand their base in the region.
So, if you are based in Ogun state and you want to become a Bet9ja agent, kindly follow the general guidelines, as outlined in the next section of this article. While filling the registration form, remember to fill in "Ogun state" (and your town of residence) as your state of residence.
How to Become a Bet9ja Virtual Agent
Virtual agents is a technical term used to indicate super agents: both terms are more or less the same thing. That said, this section will show you exclusive guidelines on how to become a Bet9ja virtual agent (or super agent).
If you are an aspiring Bet9ja virtual agent, simply follow the simple steps below to become a bonafide Bet9ja agent:
Register; fill out the registration form here
Submit the form.
Acquire a business site/centre (office space or hall).
Submit all relevant documents (as requested) to the designated Bet9ja staff in your area.
Upon submission, your document and location would be reviewed.
If you pass the documentation stage, a representative of Bet9ja would reach out and engage you in what is called "introductory conversation".
This is basically an interview, so you don't have to panic.
If the "introductory conversation" is deemed satisfactory, your proposed business or office space would be subject to physical verification (by a team of Bet9ja reps).
Once everything is in place (as required), you'ld be offered a contract (as an agent).
Sign the contract, provided you are satisfied with the binding terms and conditions.
After putting pen to paper, you are now officially a Bet9ja super agent.
After the whole registration and verification process, Bet9ja will provide you with every necessary material to get you up and running. This is exclusive of basic office equipments like computer systems (laptop(s) or desktop(s), TV sets and others.
Basically, you'ld be provided with Bet9ja banner (for advert placements) and thermal receipt printers among others. Once this is set, you can then open your Bet9ja shop/office and start earning.
Bet9Ja Agent Registration Fee
Registering as a Bet9ja agent doesn't come cheap. It is expected that someone who is looking to startup a business must be willing to spend out before earning. Hence, there is a registration fee to cover for the rigorous registration, documentation and verification processes.
At the moment, the betting company's agent registration fee is pegged at 50,000 Naira. And this figure is uniform all over the country. If you are successful with your registration and eventually get the contract, you can start enjoying the benefits in multiple folds.
That said, let us take a look at the basic requirements of a Bet9ja agent in Nigeria.
Requirements of Becoming A Bet9ja Agent
There are certain attributes – physical, intellectual and financial – which an aspiring Bet9ja super agent must possess, before he/she can be considered or deemed fit to become a representative (super agent) of the foremost betting company in Nigeria.
Below is an outline of these requirements:
Broad knowledge of the sporting world (preferably in football). Basically, you must be a sport enthusiast.
Intermediate to expert level business skill.
Customer management and excellent communication skills.
Basic knowledge of the betting industry (odds, stakes, earnings and so on)
An aesthetically appealing business/sports centre, preferably located in a densely populated area.
A start up capital; minimum of 50,000 Naira (for agent registration).
Goal-oriented and a strong knack for profit-making.
How Much Do Bet9ja Pay their Agents
Bet9ja do not pay their agents any form of stipulated regular payment, in terms of wages or salary. An agent's deal with the betting company is contract-based or more clearly, commission-based. In this case, how much you earn is fully dependent on your turnover i.e. the total value of bets placed through your shop or office.
With this, some agents could earn as much as 500,000 or 1,000,000 Naira per month (or more), while others could earn as paltry as 10,000 per month (or less).
See the next section of this article for the commission-based payment structure offered by Bet9ja to their agents.
Bet9ja Agent Commission Percentage
As emphasized above, being a Bet9ja agent is more or less a partnership type of business. The betting company allows you make money through their platform, while both parties share the money via a commissioned-based structure.
The commission-based payment structure of Bet9ja has been broken down in the outline below:
Note: This is exclusive to commissions on sport games' bet placements or selections. And they are ranked from top to bottom. 
20% Commission (highest obtainable): On 26 to 40 betting selections
18% Commission: On 21 to 25 selections
16% Commission: On 14 to 20 selections
14% Commission: On 11/12/13 selections
12% Commission: On 9/10 selections
9% Commission: On 6/7/8 selections
7% Commission: On 4/5 selections
5% Commission: On 3 selections
2% Commission: On 2 selections
1% Commission (lowest): On 1 selection
As pointed out earlier, these commissions could translate to millions of Naira (or much lesser) when broken down. Essentially, your net profit is wholly dependent on the total value of revenue generated via your bet shop.
Apart from the above outlined structure, which is exclusive to sport games betting, there are other structures offered by the betting company.
Another notable commission structure offered by Bet9ja is the one for racing games (virtual) betting. Here, the commissions are structured in the range of 9% per stake (highest commission) to 3% per stake (lowest commission).
Hope you find this article helpful?
In case you have any question or input, feel free to leave your comments in the designated box below.