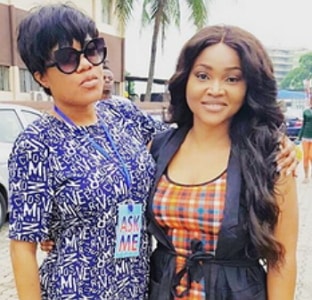 This weekend was full of drama between two top Nollywood celebrities.
Toyin Aimakhu who obviously has issues with Omoni Oboli took to Instagram this morning to call out Mercy Aigbe for showing support for Omoni Oboli .
The unusual drama started when Mercy Aigbe's uploaded photos of Omoni Oboli's new book on her page promising to give it out to some lucky fans…
Toyin later stormed the comment section of the post with insults calling Mercy a good for nothing hypocrite for supporting her perceived enemy Omoni Oboli.
As if that was not enough, she threatened to reveal what Mercy did to her home insinuating that Mercy had a hand in her marriage fall.
The comments has since been deleted.
Mercy Aigbe on the other hand has failed to respond to Aimakhu's childish comments, rather she has ordered more books from Omoni to get Toyin more upset.