Most Expensive Mansions In Nigeria 2018 & Their Millionaire Owners
Nigerians surely have a lot of taste and refinement when it comes to their houses. All of them speak of class, taste and architectural sagacity.
Another feature they all have in common is that most of them are located in the high-brow and luxurious areas of Lagos and some in Abuja. There is no doubt of course that these houses belong to celebrities from different industries. The furnishings and decor are all pointers to their wealth and taste and we cannot help but be impressed.
We see sure you would be too.
Top 10 Nigeria's Most Beautiful & Expensive Houses And Their Owners
Aliko Dangote: It should be no surprise that the richest man in Africa is making our list (I mean, comon). The business mogul has his house situated in Abuja. According to African Cradle, the billionaire has lived here for over twelve years. The house is done  in a rich northern tradition with soft padded floors and Persian rugs.
He has an elaborate kitchen (which according to him is were life is lived), a home office, a meeting room, an exquisite sitting room and his reserved intimate areas: bedroom and bathroom. There is also a large hall way. The white three-storey building is definitely one of a kind because you are sure not to see the unusual architectural designs anywhere else.
Sadly, the house is up for sale at the moment and we can hardly wait to see what the new house would look like.
AY Makun: Nigeria's foremost  comedian, AY may be unserious while on stage but he definitely took his house furnishings very seriously. The house which is large and exquisite is definitely on the list.
It has very attractive high ceilings, several rooms, a sitting room and a bedroom to die for. What we find a bit off though is that the house looks like a night club with very dim lightings and furnishings plus very dark interiors. Could it be because AY owns a club? We do not know but we do know that the interior is breath taking.
Lest we forget, the entire house was designed by his wife who runs an interior designs house.
Okwudili Umenyiora: There is no way he is not going to make the list because this dude is the owner of Nigeria's most expensive mansion. The house has a garage inside and outside it, an elevator, a swimming pool (inside and outside the house), a built- in- the- floor LED-Tvs. When you are looking from the glass windows, the view is as one on a ship. The house has a two-foot thick fenced wall and very beautiful chandeliers.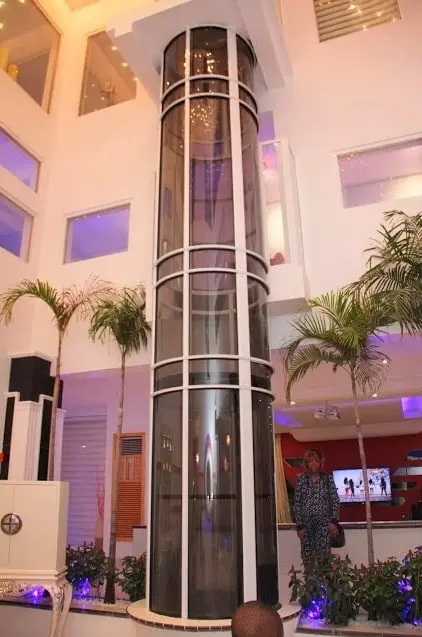 E-Money: Emeka Okonkwo better known as E-money is the elder brother of Kcee and the owner of Five Star Records, Five Star Oil and Gas. With all these and more, he is one of Nigeria's richest and youngest millionaires.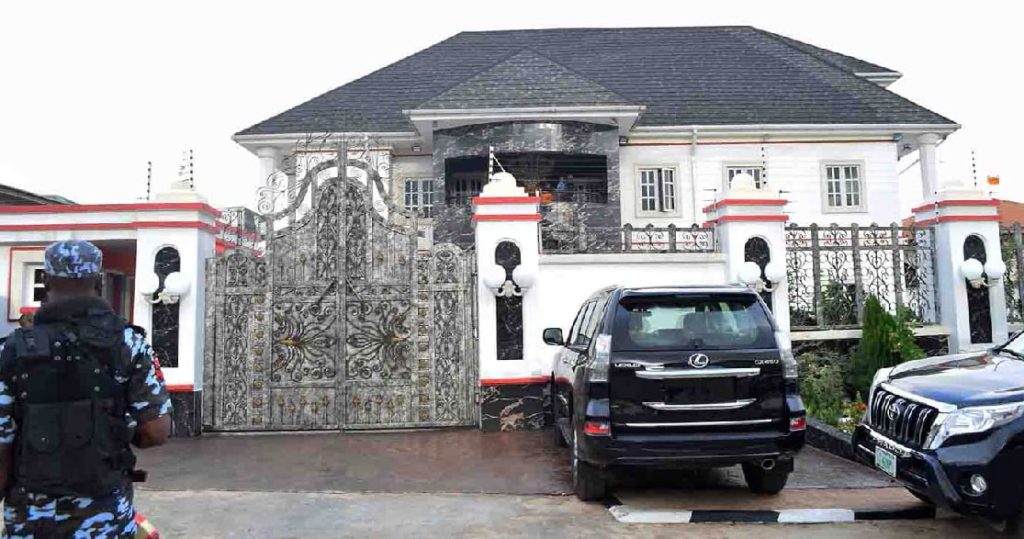 His palace is done in Middle Eastern style. It cost him over #250 million. It would appear his favourite colours are white and gold for the interior of the house is done chiefly in these colours. There are gold plated tables and beds. There is also a gym, a playground (for his three sons) and a swimming pool.
Mike Adenuga: As usual, his house is located on the prestigious Banana Island, Lagos. The Nigerian billionaire who has his tentacles spread in areas such as telecommunications (he is the owner of Globacom) and oil and gas (he is the owner of ConOil) has one of the most beautiful mansions in Nigeria.
The edifice occupies three solid hectares. It is an estate and has nine stunning complexes. Eight are for his family members and visitors while the other one serves as his own residence and home office.
Other specs of the house include:
a meeting Hall (accommodating about two hundred seats)
Church and mosque
Berth for Yachts
Large swimming pool
Heliport
An impressive car park
The house is heavily guarded and in addition to the high fence, it is equipped with two very high watch towers.
Folorunsho Alakija: She is very popular and is the richest woman of African descent in the world. Although this business tycoon has several houses, none is as impressive as her main residence in Ikoyi. It is located on the very street named after her, Folorunsho Alakija.
The construction of the house is believed to have gulped about $700 million. This is because it is believed that the entire house is bullet proof. Enough said.
Bola Ahmed Tinubu: He is the former Governor of Lagos state and the national leader of the All Progress Congress (APC). He is one of the richest politicians in Nigeria. He lives at Bourdillon Road, Ikoyi. The house is a billion naira mansion. Apart from his home, he also owns several expensive houses and landed properties.
Linda Ikeji: The famous blogger who claims to be Nigeria's richesst rented her mansion in 2016 in the choice area of Banana Island Ikoyi Lagos. The white two-storey building contains six bedrooms, a  cinema, a media room, a home  office, two very expansive living rooms, several bathrooms and a massive kitchen. There is also a large swimming pool outside the house.
Senator Dino Melaye: One of Nigeria's most controversial law makers, he has an eye for good houses and landed properties. The house is dotted on every side with green vegetations and orchards. His house is not only one of the most beautiful but also one of the most expensive in Nigeria. The senator lives in his #1.5 billion mansion in Abuja. The senator acquired the property shortly after he became a law maker.
Olamide: Olamide is one of Nigeria's topmost musician. Among many of his possessions, he also owns a huge mansion in Lagos, precisely the serene area of Lekki.
Although he has other houses, this one is the most expensive of all. The house is done in warm colours and is quite large. There is a theatre, a music studio and a swimming pool. The star who loves to live a quiet life has a sit out where he relaxes and unwinds.