Entertainment News
Nigerian Musicians & Celebrities With The Most Expensive Houses 2018 [PHOTOS]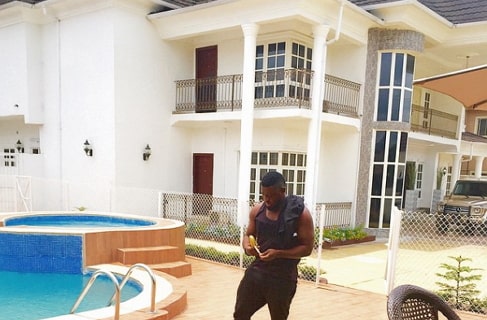 Nigerian Musicians & Celebrities With The Most Expensive Houses 2018
We all love houses especially the beautiful ones with the hi-tech facilities that make them luxurious and comfortable. Most celebrities, especially the musicians have such houses. The sort we get to see on TV. These stars definitely have a refined taste and this shows in their houses and even how they are furnished.
We present some selected ones to you in no particular order:
Tiwa Savage: Number one African bad girl, Tiwa Savage is a charts topper. From her debut single "Kele Kele Love" in 2010, the singer has continue to show her mettle.
The mother of one has an eye for the most expensive possessions and her house is no exception. She shared a section of the house on her Instagram page on December, 31,/2017. She bought the house in the high brow area of Lekki, precisely Ikate Elgushi and even has a street named after her.
According to  reports, two security guards stand sentry at the gate and it is almost impossible to see her unless on an earlier appointment. We were however informed that some other super stars such as AY, MI, Timaya etc come to visit. The house cost her about #60 million.
Timaya: Timaya's mansion is the true definition of taste, class, style and wealth all rolled into a structure. The 37- year old singer moved into his recently completed house at Lekki. The interior of the apartment is to die for with the latest gadgets.
The inside of the house showed over 120 pairs of shoes and about 350 different outfits. The inside of the house is painted in very bright colours and some paintings. There is a pent-house and a large living room. The house is put to be around #250 million.
Wizkid: He is one of the most prominent and popular singers in  Nigeria and also one of the richest. He has two houses- one in Lekki and another in Los Angeles.
Although it is not yet confirmed that he owns the house at Lekki, there are strong indications  that it is his. He neither conformed nor denied the rumour. To own a mansion in this area is put to be around $16 million.
We are however sure that the one at Los Angeles is the singer's. The mansion was bought in 2016 and is located in the country area, high on the hills of Los Angeles. The house stands on its own as there are no others houses around it.
It is painted in gray and neutral colours. This was to match the landscape. There are several balconies and lots of plant to give it that serene look it has. The inside of the house is painted in warm shades giving it a relaxed air. There are lamps on the post and a sit out where the singer relaxes with friends.
2Baba: TuFace like other celebrities equally has a house (or should we say houses). There is one at the Banana island- a place that us fast becoming a reserve for all of them. There is another at Lekki famed for the constant security and power.
Although the star is not one to flaunt his affluence, he is occasionally seeing posing in his house. The two mansions according to reports was sold by the Haven Homes. The house is wired all round by automated light switches, central audio, Systems, intercom, central alarm system and other modern devices.
Kcee: Kingsley Chinweike Okonkeo popularly known as Kcee is one of the most outlandish celebrities in the music industry. With a net worth of over #900 million, it is not surprising to see why he is like this.
His house is deemed as one of the most beautiful celebrity houses. He calls "Five Star Mansion". It was gathered that the singer spent several  millions of  naira in the building as well as furnishing it.
As we guessed,there are lots expensive pieces and decor. His house has all the state of the art equipment to keep myself. Most of the furnishings are done in gold and like the show off he is, he usually splashes photos of the house on his Instagram handle.
Don Jazzy: Mavin's boss, Don't Jazzy knows how to leave the life. He has house located on the Banana island. This mansion is said to be worth #150 million. There are severely bedrooms in the house and it is not clear how many they are.
The house is not the only one the singer owns. There is another house in Lekki which the singer singer likes to call " Lekki Office"
E-Money: He is the owner of the Five Star Records, Five star Oil and Gas, producer and Kcee's elder brother. He is definitely one of the richest celebrities in Nigeria.
The house is designed in white and gold (which is believed to be the star's favourite colour) with a Middle East architecture. There are several luxurious objects in the house such as gold chairs and tables, electronic gadgets, a gym and a pool.
Phyno: one of the most reserved celebrities as far as money and possessions, Nigeria's foremost Igbo rapper Phyno is a silent achiever. He does not like displaying everything on social media. We however managed to scoop up the little that we can.
In 2015, the rapper bought a three flat Duplex at Chevy Estate View, Chevron Drive, Lekki. The house cost over #170 million while he built another one at his hometown which cost him about #70 million. The rapper obviously likes a lot of space as he is often seen relaxing outside the house.
Peter Okoye: The star twin definitely has one of the best homes. He recently moved into his own home after moving out of Squaresville which he previously shared with his twin brother.
From the massive living room to the kitchen which are done in white and red, it would leave you in awe. There is also a studio which doubles as a cinema too plus, a very large swimming pool.
D'banj: And we give you the koko master's mansion at Lekki. According to reports, the house was sold because he did not pay his domestic servants amidst other issues. The star however has another house at Atlanta which cost him several hundreds of millions of dollars. He does not flaunt it but we already know it is a palace any day.