Crime News
Mother Arrested For Assaulting 2 Year Old Daughter Over Her Inability To Recite Numerals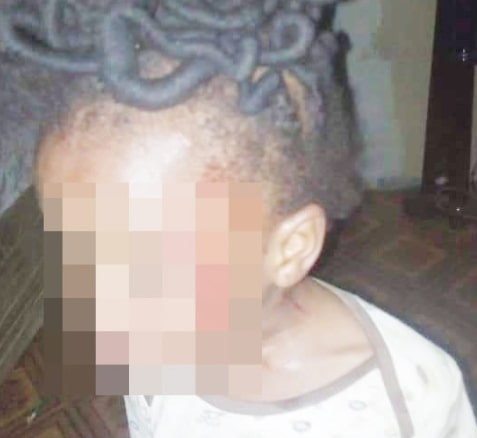 Mother Arrested For Assaulting 2 Year Old Girl Over Her Inability To Recite Numerals In Akure Ondo State
A mother from hell who allegedly beat her daughter to stupor and inflicted injury on her face over her inability to recite numerals properly has been arrested.
Bisola Anthony, who has been on the run since she brutally assaulted her 2-year-old daughter in Akure Ondo state was over the weekend.
According to PUNCH Metro, Bisola, while teaching the victim numerals around 8pm, on Tuesday, at her place of residence on Danjuma Street in the Akure South Local Government Area of Ondo State, allegedly beat the child with the stirring rod when she realised that the victim had failed to comprehend the lesson.

Our correspondent learnt that the cry of the victim prompted neighbours to enter her parent's apartment to plead with the mother, only to realise that the girl had sustained some injuries as her body was stained with blood.
A neighbour, Tope Boyede, who posted the news of the assault on his Facebook page, when contacted on the telephone by PUNCH Metro, condemned Bisola's action, saying that the fact that the child could not comprehend what the mother was teaching her did not mean she should be assaulted to that extent.
Boyede, who said the father of the victim acknowledged that his wife was fond of beating their daughter, added that when child protection officers from the state Ministry of Women Affairs and Social Development, visited the victim's house to arrest her mother, Bisola ran away.
The civil servant said,
"The victim's mother and I live in the same compound on Danjuma Street. How we got to know about the child being molested was that when the mother was beating her with a stirring rod, because she could not recite the numerals from one to 200, the neighbour, whose room is close to that of the child's parents, heard the girl crying.

"Neighbours tried to rescue the girl from the mother, but what they saw was very bad; there was blood on the victim's body. Apparently, the mother was teaching her daughter the numerals but when the victim could not recite them, the mother started beating her with a stirring rod. The child is just around two year old and the fact that she could not comprehend what the mother was teaching her shouldn't make the mother beat her to the extent of inflicting injuries on her.

"I still saw the mother this morning (Tuesday) before I went to report at the ministry. When I got there, the ministry released some officials, who accompanied me to the house to arrest her. But when we got home, she had already fled with her children. I believe she went out as usual, but the officials have assured us that she would be arrested."