Crime News
Mother Of Breadwinner Killed By Eiye Cultists In Ilasa Lagos Curses Son's Killers, Says Their Parents Will Know No Peace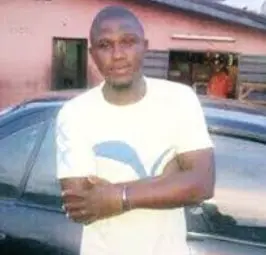 Mother Of Breadwinner Killed By Eiye Cultists In Ilasamaja Lagos Curses Son's Killers, Says Their Parents Will Know No Peace
Panic has gripped residents of Ilasamaja area of Lagos State following a renewed cult war.
3 persons, including a physically-challenged person, were alleged to have been caught in the middle of the ongoing war and slaughtered.

Residents disclosed that the cult war had been going for days and later snow balled and spread into different streets.
The latest attacks on Monday occurred at Bankole, Amusu, and Abeokuta streets in Ilasamaja.

Two of the victims were killed at different streets in the area, while the third was beheaded. The victim, whose head was cut off and placed beside his corpse, was in the area to visit a friend before he was murdered.
One of the victims had been identified as 36-year-old Femi, a factory worker. He was also described as the breadwinner of his mother and siblings.
Femi's grieving mother, fondly called Iya Grace by neighbours, said that her son was shot and killed in her presence. She was yet to come to terms with the shocking incident.
The woman recounted that her son was killed on Monday morning. She explained that they were sitting outside on that fateful day when five suspicious looking young men walked towards them.
"My son was standing at the corner of the house when those young men came to meet him. In fact, some residents ran away when one of them brought out a gun. But I refused to run because I'm an old woman. Before I could ask them what the problem was, one of them shot my son in the chest. He fell down. After shooting him, they all disappeared. We grabbed Femi and rushed him to the nearest hospital. Before we reached the hospital, my son was already died," she said.
The woman broke down and started weeping like her heart was breaking.
"My son was not a cultist! He was the person that used to take care of me and his siblings. He was a peaceful person who always minded his business. Nobody in this street can claim that Femi had had issues with them. I had just two boys; now they have killed and taken Femi from me. Femi was a factory worker, working with one of the companies at the Isolo Industrial Estate.
"My God will punish the young men who killed Femi. They will never know peace in their lives. The police should not rest until those boys are arrested and brought to justice. As they brought sorrow on me, their parents will suffer in pains," she cursed.
Residents said they had been living in fear since the beginning of the year over escalating activities of cultists. They explained that whenever it was sunset, fear became their companion.
"We don't know what will become of us or our neighbours before morning. These cultists operate freely," a resident said.