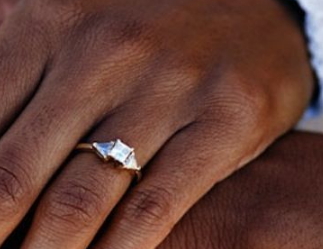 By Gold Myne
I think I am in the wrong relationship, in a wrong courtship, with the wrong woman! I am still shocked that she does not want to marry me!
We have been dating for three years, and I can't say 'just' because its been like 30 years to me.
She came for her NYSC program in Abuja and that was where I met her.
I noticed many odd things about Grace which I overlooked and made excuses for (I really would not like to say those things…)
She hasn't been the perfect girl but I wouldn't hold on to that cause I haven't been the perfect guy too but I love her!
I proposed to her last month! Luckily for me, I didn't go through the ritual of inviting the world or proposing in an open place, I would have been embarrassed. I literally begged her to take the ring, forced the ring into her finger (again I excused her, maybe she was overwhelmed)
Until Grace sold the ring! I bought that ring for 115K but I didn't even tell her. She lied to me that she was robbed, and the robbers ordered her to remove the ring.
My mind immediately rejected that explanation, so many things didn't add up, until I heard from a very reliable source that she sold the ring! I was alarmed, and I tried not to believe but I kept remembering some other episodes that I had overlooked in the last three years!
Some nights ago, I finally saw the proof that Grace sold the ring I painstakingly chose and purchased for her! She sold it for 50K.
I haven't confronted her… I'm kind of confused. Why would she sell it?
She doesn't need money, not 50K!
I really want to sample opinions before I confront her, why would a lady I proposed to, sell the ring a week after the proposal?