Crime News
Nigerian Facebook Killers Arrested Over Cynthia's Murder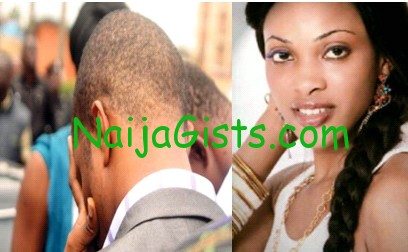 August 22, 2012 – Nigerian Facebook Killers Arrested Over Cynthia Akuzogwu's Murder
NaijaGists.com shared with you on Tuesday August 21st, 2012 the heart-breaking story of a Nigerian woman, Cynthia Akuzogwu Udoka who was murdered by her Facebook friends last month. naijagists.com
Cynthia Akuzogwu Udoka's killers have been arrested in Ikeja, Lagos State Nigeria today.
The two murder suspects arrested today are listed below
33-year old Echezona Nwabufor
23-year old Ezekiel Nnechuwu Olisa Eloka
After their arrest, the duo narrated how they drugged 25 year old Cynthia and strangled her in a robbery attempt.
Eloka, one of the killer said they killed Cynthia because they thought she had a lot of money with her but after her murder, they didn't find huge amount of money.
Here is a detail confession made by the suspects today after their arrest.
Shocking Confession Of Cynthia's Facebook Killer
"We met her on the Facebook on our Blackberry. We invited her to come to Lagos to buy goods at cheap prices.
"When she got to Lagos, we took her to a hotel in Festac. We thought she had a lot of money, but she said she didn't have any money. We gave her Reflon tablet in her Ribena drink. After this, we slept with her for 12 hours in that hotel. We discovered that the tablet did not work quickly on her.
"We then attacked her, tied her up and used cello tape to cover her mouth. After that, we beat her to tell us where she kept the money.
"When we didn't get any money from her, we tied her mouth and strangled her and then we abandoned her in the hotel and fled."
According to Assistant Commissioner of Police, Mr Okoro, Cynthia's killers are undergraduates. They were arrested through call logs of the conversation they had with the late Cynthia who was a post-graduate student of Nasarawa State University.
The killers after strangling Cynthia deposited her corpse at Isolo General Hospital mortuary.
Over 23 SIM Cards and many ATM cards were found on the suspects at the time of their arrest.
Here is a beautiful tribute made by late Cynthia's best friend, Aishatu Ene Ella: "In the last few days, I have seen my heart torn, stripped and broken into pieces, first by the disappearance and death of my dearest friend and secondly by the wickedness exhibited by Nigerians passing judgement on someone they never knew or met."
May her soul rest in perfect peace!
According to police sources, Cynthia's killer will be charged to court soon.