Information Portal
Nigerian Tribes Facts: Igbos, Yorubas & Hausas Cultural & Historical Facts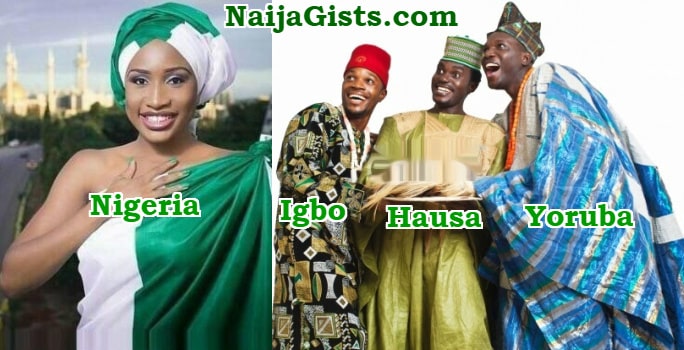 Nigerian Tribes Facts: Igbos, Yorubas & Hausas Cultural & Historical Facts
Nigeria, the most populous black nation in the world, is a culturally diversed country, with multitude of ethnic groups living together as one. Interestingly, these tribes are not only divided along tribal lines, but also along religion lines.
In this article, we are going to be bringing you comprehensive Nigerian tribes facts .
Here are some interesting cultural and historical facts about the three main ethnic groups in Nigeria.
How Many Ethnic Groups are in Nigeria?
There are three main tribes/ethnic groups in Nigeria; a fact known to all. These tribes are: Yoruba, Hausa and Igbo. Each of these three ethnic groups is an assemblage of several local tribes and dialects. More elaborately, we can divide Nigeria's cultural sphere into eight, by adding the Tivs, the Binis (Edo), the Ijaws, the Efiks and more significantly, the Fulanis, to the three main tribes.
Generally speaking, there are over 1000 ethnic groups (local tribes and dialects) in Nigeria, most of which are located in the northern part of the country.
By geopolitical division, Nigerian tribes are distributed as follow:
North East: Hausa & Fulani
North West: Hausa & Fulani
North Central: Tiv, Nupe, Hausa & Yoruba
South West: Yoruba
South East: Igbo
South South: Ijaw, Bini (Edo) & Efik
The ethnic trend outlined above (north to south) is replicated along religion lines. The northern ethnic groups are predominantly Muslims, while the southern ethnic groups are predominantly Christians. Interestingly, the central zone – North Central – ethnic groups are mixed i.e. both Islam and Christianity are of significance in the area.
About Igbo Tribe in Nigeria
The Igbos, as pointed out earlier, can be found in the South Eastern region of Nigeria, and they are predominantly Christians. They are renowned for their rich cultural heritage and more significantly, their business acumen. Furthermore, Igbo traditional rulers are generally referred to as "Igwe" or "Obi".
Geopolitically, the tribe is divided into five geographic/political zones known as states. These include Anambra (Akwa), Enugu (Enugu), Imo (Owerri), Abia (Umuahia) and Ebonyi (Abakaliki).
The Igbos, though indigenously sited in the South Eastern region of Nigeria, are scattered across every nook and cranny of the country and beyond. They are widely known for their local and international adventures (usually for business); hence, they have been awarded the laurels of "most travelled tribe in Nigeria".
About Hausa Tribe in Nigeria
Hausa is the colloquial term for all Northern Nigerian tribes/languages. And they are widely regarded as the largest ethnic group in the country (by population). The Hausas are the major ethnic group in Northern Nigeria, among other ethnic groups like Kanuri, Fulani, Shuwa Arabs and others .
The Hausa people are predominantly Muslims, with only about 1% to 2% of them being Christians. Notable Hausa states in Nigeria include Kaduna, Kano, Niger, Kebbi, Jigawa, Bauchi, Taraba and Zamfara among others.
All Northern Nigerian towns/cities are characterized by their unique architectural design, which dons the look of medieval Middle East or the Arabian peninsula. Also, they are widely known for their meat (grills) production, commonly tagged "Mai Suya" in Nigeria.
Lastly, the Hausas, by individual wealth profiles, are the richest in Nigeria. Ironically, they are collectively the poorest, with beggars from the region filling up every corner of the country by the day.
About Edo Tribe in Nigeria
The Edo tribe, who are predominantly found in the western stretch of South-South Nigeria, are one of the largest minority ethnic groups in Nigeria. They are generally known as the Binis (Benin), and they share a very close bond with their South-West partners – the Yorubas. In fact, their traditional rulers are referred to as "Obas", just like in Yorubaland.
The Binis are indigenously located in Edo State, and some parts of Rivers, Ondo and Delta states in Nigeria. They are well known for their unique beads-adorned dresses and hairstyles.
The tribe is near-evenly divided along religion lines. Although, they are predominantly Christians, traditional worshippers and Muslims are also in their high numbers.
Which Tribe is the Oldest in Nigeria?
There have been several controversies, arguments and counterarguments over which tribe is the oldest in Nigeria. These controversies have raged on for centuries, up till this day.
As gathered from several sources, the oldest tribe in Nigeria is not Yoruba, neither is it Igbo nor Hausa. According to these sources, the oldest tribe in Nigeria is actually Ijaw – the indigenous group of people dominating the creeks and the oil-rich region of Niger Delta.
The Ijaws, as gathered, have been in existence for over 5 millenia. Originally known as the people of Oru, the Ijaws were the first settler in the coastal area (the creeks) that is today known as the Niger-Delta.
Ijaw land is spread across the South Southern states of Delta, Bayelsa, Cross River, Akwa Ibom, Rivers, and some parts of Edo and Ondo.
Which is the Richest Tribe in Nigeria?
Firstly, it is important to point out that there is no standard yardstick for calculating the wealth profiles of tribes in Nigeria. As such, all the available "richest Nigerian tribe" rankings are mere conjectures, and usually painted with bias and sentiments. Nevertheless, we will be making attempts to rate the respective wealth profiles of Nigeria tribes.
In terms of natural resources, the richest tribe in Nigeria is Ijaw, as over 70% of Nigeria's petroleum reserve is located within Ijaw's land and coastline. With this, the Ijaw tribe conveniently stands out as the richest tribe in Nigeria. This claim is further buttressed by the relatively high GDPs of the Niger-Deltan states, with Rivers, Akwa-Ibom and Delta ranked among the top ten richest states.
However, as ironic as it sounds, most of the oil wells in the Niger-Delta region are owned by Hausa/Fulani tycoons. Notable Hausa/Fulani oil bloc owners in Nigeria include Mohammed Indimi and General Abdulsalami Abubakar to mention a few. Aside that, the richest man in Africa, Alhaji Aliko Dangote, is a Hausa man from Kano State.
From a different view; in terms of GDP ranking, the South Western States have an average GDP of $12 billion (approx.), which is the highest of any region or tribe in the country. With this, it is safe to say that the Yoruba tribe is the richest in Nigeria.
Nigerian Tribes and their Languages
Speak of culture, speak of language! The spoken language of a particular tribe is the main indicator and heritage of such tribe. And while, the common – official – language of Nigeria is English, each tribe in Nigeria has its own specific language. Overall, there are over 500 indigenous languages in Nigeria, many of which are derivatives or dialects of the three main languages.
Below is a summary of Nigerian tribes and their languages:
The Yorubas: Yoruba (with multitude of dialects)
The Igbos: Igbo (with multitude of dialects)
The Hausas: Hausa (with multitude of dialects)
The Fulanis: Fulfude
The Ijaws: Izon, Kalabari and five others.
The Ebirras: Igbirra
The Efiks: Efik
The Igalas: Igala
The Tivs: Tiv
The Nupes (Tapahs): Nupe
The Itsekiris: Itsekiri
And more
Nigerian Tribes by Population
Below is a summary of the eight largest Nigerian tribes, aptly accompanied by their respective populations (from largest to smallest):
Hausa: 60,000,000
Yoruba: 40,000,000
Igbo: 35,000,000
Edo (Bini): 20,000,000
Fulani: 15,000,000
Ijaw: 14,000,000
Kanuri: 12,000,000
Tiv: 7,000,000
Nigerian Tribes and their Foods
Nigerian tribes are synonymous with their delicacies. Each tribe has a set of indigenous delicacies, which are locally made, with unique touch of culinary techniques.
Below is a summary of the top three tribes in Nigeria vis-à-vis their respective foods:
Yoruba Delicacies
Gbegiri Soup (prepared with Beans and Palm oil)
Moin Moin (prepared with Beans)
Amala / Yam Flour (prepared with Yam)
Yam Porridge (with Yam)
Iyan / Pounded Yam (with Yam)
Efo Riro Soup (with Vegetables)
Ila Alasepo (with Okro)
And more
Igbo Delicacies
Abasha (from Cassava)
Akpu (from Cassava)
Ogbono Soup
Okro Soup
Okpa (from Beans)
Oha Soup
And more
Hausa Delicacies
Tuwo Shinkafa (prepared with Rice)
Suya (with Beef)
Kilishi (prepared with Beef)
Masa
Kose (with Beans)
Kunu
Kuka Soup
Fura de Nunu (from Cow Milk)
And more
Have any addition? Kindly leave your comment in the designated box below.
For more facts about Nigeria, please visit NaijaGists.com Information Desk.
Follow NaijaGists.com on Facebook and Twitter.