Entertainment News
Woman Sacked After Giving Birth To Triplets Gets N100K Donation From BaNI, Build A Nation Initiative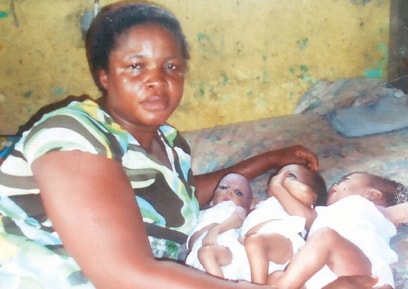 A woman sacked by her employer for giving birth to triplets last year has received cash donation from  Build-a-Nation Initiative, BaNI.
The cash of N100,000 was presented to  Mr & Mrs Ifeanyi Amadi at the head office of Vanguard  in Lagos.
BaNI Founder/Convener  Mr. Emmanuel Ehiemua, said the donation was to assist the family meet up with some of the basic needs of the children. Ehiemua who described Mr and Mrs Amadi as parents who would have loved to fend for their own, regretted that the couple had been denied the dignity of financial independence due to job losses.
According to him;
 "This situation is metaphoric of a nation where millions of people daily lie victim to unfavourable circumstances of unemployed, unplanned births, malnutrition, poor health care delivery and loss of shelter."  
Here is how Mrs Precious Amadi narrated her ordeal
"When I realised I was pregnant, I was not happy at all because I was not planning to get pregnant. It was the family planning method I was using that failed and I had an unintended pregnancy. But when scans later confirmed that I was carrying triplets, I nearly collapsed from the news. It is hard enough catering for three children not to talk of six. I knew immediately that we were in trouble."

"I am a trained teacher. I have my National Certificate of Education, NCE, qualification. I have been teaching for over 13 years and I was a teacher in that school for almost eight years. "After I gave birth at the General Hospital at Ajeromi Local Government, Lagos, I was given only four weeks maternity leave by my employer. But it was not enough. I couldn't resume work after four weeks because it was not an easy period for me at all, particularly because I gave birth through Caesarean Section."
After the four weeks elapsed, Precious who said she was earning N18, 000 per month, decided to go back to her employer to seek permission for more time with her babies.
"I didn't expect to get the normal three months, but I needed more time at home until my babies were stronger. To my surprise, when I went back to the school, I was told my services were no longer needed. It was then I discovered I had already been replaced and my salary stopped."
To help the couple , please call +2348167949814.