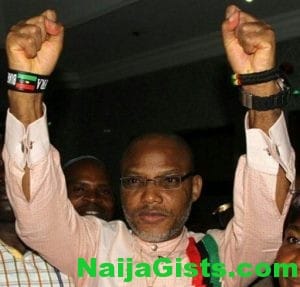 October 17, 2017 – Nnamdi Kanu Will Appear In Court Today – Says Lawyer
Nnamdi Kanu's lawyer, Ifeanyi Ejiofor, says he is convinced that the government will produce his client in court today Tuesday the 17th of October 2017.
The IPOB leader, who is facing treason trial, is due to appear at a federal high court in Abuja on Tuesday.
He is being tried alongside three others: David Nwawuisi, Benjamin Madubugwu and Chidiebere Onwudiwe.
Since soldiers raided his Afara-ukwu residence in Umuahia, Abia state, on September 14, Kanu's whereabouts have been a mystery.
There has been a rumour that the IPOB leader has left the country for the UK – a speculation to which Orji Kalu, former Abia state governor, gave credence.
Kanu's lawyer had filed an application at a federal high court in Abuja, asking it to order the army to disclose his whereabouts.
But the army denied having him in custody.
Speaking with TheCable on Monday, Ejiofor said he believed the government, which is allegedly holding Kanu, would bring him to court to face his trial on Tuesday.
"We have filed a suit at the court asking the federal government to produce him in court," he said. "It is obvious they will bring him to court tomorrow. They are holding him. They know where he is. I am fully convinced they will bring him to court."