Crime News
North Korea Executes Military Officer For Drinking Alcohol During 100-Day Mourning Period For Late Ruler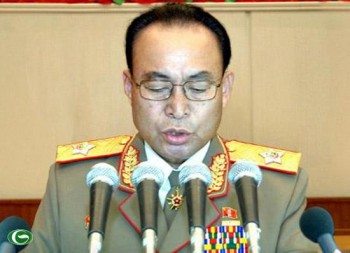 Kim Chol
Oct 26, 2012 – North Korea Executes Military Officer For Drinking Alcohol During 100-Day Mourning Period For Late Ruler
North Korea has executed a senior military officer for drinking alcohol during the 100-day mourning for late leader, Kim Jong-il. naijagists.com
The secret state's vice minister of the Army, Kim Chol was gunned down in January one month after their leader, Kim Jong-il died of heart attack.
The North Korean regime issued strict instructions to the 25 million population to express their sorrow at their leader's passing by abstaining from pleasurable activities – which included drinking alcohol or having sex.
As an initial crack down on pleasure, anyone found to be not showing extreme distress in the hours after the dictator's death were dealt with severely by being sent to six months in labour camps, according to reports leaking from the Stalinist nation.
It was claimed that anyone who failed to turn up at organised mourning events within two days of the burial service were sent to a labour camp and punishment was also meted out to anyone who even made a mobile phone call out of the country.
But when the mourning period to mark Kim's burial was over and the strict 'no pleasure' 100 days followed, anyone who raised a glass of alcohol was in danger of receiving a death sentence.
According to South Korea's Chosun Ilbo newspaper, Kim Chol was one of those who failed to resist the chance of having a drink.
And while he was the most senior official reported to have been arrested and executed, the South Korea newspaper reporter that a number of other generals were also shot after being found guilty of drinking and being involved in sex scandals.
In total, 14 senior party, government and military officials were said to have been 'purged' on the direct orders of Kim's son and new leader Kim Jong-un.
It was claimed by sources outside the country that the mourning periods had created a 'vicious atmosphere of fear' which have spilled over to daily life almost a year after Kim Jong-il's death.
South Korean lawmaker Yoon Sang-hyun told the Chosun Ilbo paper that the executions were probably not over.
'It seems that the purges will continue for the time being, as Kim Jong-un is tightening his grip on power,' he said. (Credit:DailyMail)