Crime News
Ogun State: Armed Robbers Attack Church, 3 Police Officers Killed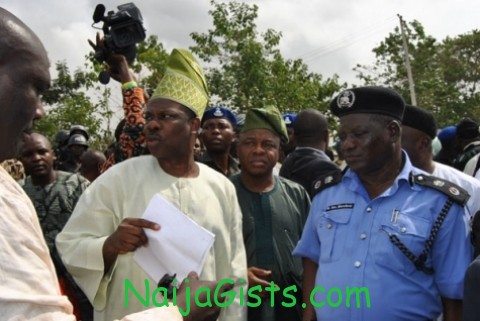 Oct 23, 2012 – Ogun State: Armed Robbers Attack Church, 3 Police Officers Killed
A notorious 15-man armed robbery gang who invaded the premises of Apostolic Church Mission House in Ijemo Agbadu, Abeokuta Ogun State, Nigeria on Monday morning at about 1:45am killed three police officers. naijagists.com
In the robbery operation that lasted close to an hour, 2 other church workers were severely injured.
According to an anonymous source, the armed robbers acted on an information received from an insider in the church that a large amount of cash was kept in the Mission House.
The armed robbers who accessed the mission house through the roof destroyed the whole building.
Pastor Jacob Adeotan, a resident Pastor of attacked church said the robbers held residents hostage while the operation lasted.
"As you can see, they broke the burglary proof, gained access into many apartments before ransacking," the pastor said. "They operated for about 45 minutes, and engaged in sporadic shooting when police patrol team arrived." – Pastor Adeotan laments
According to police sources, a Rapid Response Squad who responded to a distress call raced to the scene. On seeing the policemen, the robbers engaged them in fierce gun-battle leaving 3 officers dead while injuring two others.
Mr Muyiwa Adejobi, the spokesman for Ogun State Police who confirmed the incident said over 300 used bullets shells were recovered from the robbery scene.
He said investigations is still ongoing to arrest the robbers.