Crime News
Photos: Pittsburgh Jewish Synagogue Mass Shooter Robert Bowers Arrested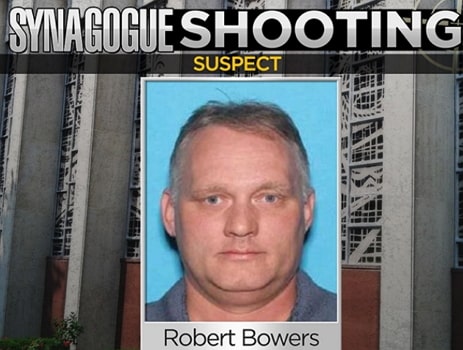 Robert Bowers, Pennsylvania Christian Man Who Killed 10 Jews During Naming Ceremony At Jewish Temple In Squirrel Hill, Pittsburgh Arrested
The hate-filled man who killed 10 innocent people this morning at a peaceful predominantly Jewish community in Pittsburgh, Pennyslvania today  has been arrested.
Robert Bowers, a resident of Squirrel Hill in Pittsburgh invaded the Tree of Life Jewish Synagogue in Squirrel Hill this morning during a naming ceremony and opened fire on the Jewish people there.
He reportedly took the lives of 10 people and continued his shooting spree where 4 officers were injured.
About 2 hours before the attack, he took to his GAB profile to drop the comment below
Bowers who dislikes the Jews for no just reason blamed HIAS (an organization that help to migrate suffering Jews to the US) for bringing Jewish people to the United States.
Sadly, nobody reported him until he carried out today's attack.
The suspect who was injured in a forced arrest was taken to the hospital for treatment.
From his social media pages, one can easily conclude that Bowers is a Christian who hates Judaism with passion.
His hatred for the Jewish people motivated today's deadly attack.
The death toll of today's attack is expected to jump as several of the people injured in the mass shooting are still clinging to life in the hospital.
This is why gun control is very important for the safety of lives in the US.
Any crazy man can just wake up one day and open fire on innocent people.
It is high time US wage serious war against lobbyists delaying gun control law in the country.
Without gun control, no one is safe on the streets of America.