Crime News
Police DPO Shoots 2 Innocent Men In Warri Delta State, Abandons Them In Pool Of Blood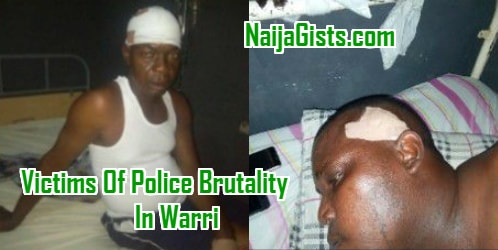 A victim of police brutality in Delta state, Segun Awodeyi has narrated how one Mr Anniette Eyoh, the DPO of B Division of the Delta State Police command allegedly shot him and his friend and abandoned them.
In a recent interview with UPNG, Awodeyi said he was shot on the head and buttock.
Here is how he narrated his ordeal:
"I was driving home from a meeting with two of my friends, Efe Peters and Victor Torubiri along Cemetery Road, Warri, Warri South West Local Government Area of Delta State, when suddenly I heard repeated gunshots and I thought we were caught up with armed robbers. Just as i was wondering what was happening, I felt a gun shot on my head!!!. Blood immediately started gushing out of my head.

My friend, Efe Peters who was on the passengers seat was equally shot on his head. Victor was not shot because he laid on the floor of the back seat. While I was screaming, I lifted my head up and I saw the patrol Van of "B" Division of the Delta State Police Command of the Nigeria Police Force, Warri, Delta State: feeling relieved, at least sure of further safety, I immediately ran towards the van as I also saw the DPO whom I recognised but instead of getting the safety that I assumed, the DPO pointed a gun at me, aiming to shoot my chest and i immediately turned and the bullet hit my buttock.

In my pool of blood, I started shouting "DPO, na me Segun ooo, you no know me again?? You won kill me,? He ordered me to lie on the floor which I did. He placed his leg on my chest, and beckoned on one man to come and identify me but the man declined. It was then, I recognised two other police officers, Mr. Emeka of Warri Area Command and Mr Prince of " A" Division and I started shouting "Emeka, na me your friend oo, Emeka ,you won kill me? You no know me Segun your friend?

It was at this point that Emeka moved closer to recognise me after which he screamed and immediately beckoned on the DPO and the three (DPO, Emeka and Prince) of them went to the back of my car to discuss. It was while they were still discussing, leaving i my friend Efe Peter's socked in our own pool of blood that the patrol van of "A" division coincidentally drove to the scene and on recognising me, they immediately rushed us to Hospital.

Meanwhile, at this time, they have shot my car severally and even my fuel tank was burst open with bullets". Segun Continued " some minutes after we got to the hospital, Prince and Emeka, the two police officers that joined the "B" Division to carry out the act came to the hospital to find out if we are still alive. On hearing that we are still alive, the DPO (Mr Eyoh) requested that the Doctor in charge should administer treatment on us and promised to foot the bill". .

 "We were not stopped by the police men, we were not searched, we were not interrogated, we were not arrested, all we can remember is the repeated gun shot at us".
The victims are still receiving treatment in the hospital.