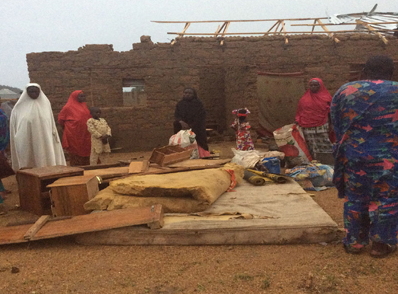 5  persons are feared dead after a rainstorm hit some communities in Bauchi State on Saturday.
The rain, which started about 4.49pm and lasted almost 90 minutes, left families in tears as the storm blew off the roof of their houses. While some houses were completely levelled to foundation level, some were left without fences and some were partially destroyed.
Some of the worst hit areas are Wuntin-Dada, Tsohon Kanfani, Lafiyari, Yelwa, Rafin Zurfi, Inkil, Guru, Yelwa-Makaranta, Bakaro, Miri, Tiwum, Railway road and Government Reservation Area.
Though no death has been reported officially, a source with the Bauchi State Emergency Management Agency said;
"We understand that two children died at Zango and three people died at Tirwum and several others were injured."