Crime News
Ritualists Kidnap Boy From Family House, Remove His Eyes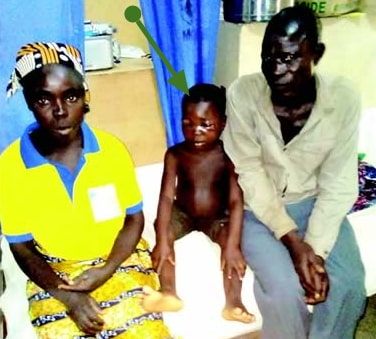 Some suspected ritualists who invaded a home in Agaza village, Keana LGA of Nasarawa state last week have removed the eyes of a 7-year-old boy.
Monday Ajeh's father, Agadi Ajeh said his family members were sleeping when they heard his son screaming for help last week Thursday around 1:00am.
Agadi told Northern City News that his son was found in the pool of blood with his eyes missing.
According to police investigation, the boy had earlier told his parents some people were threatening to remove his eyes but they ignored him.
Here is what Nasarawa State Police spokesperson, ASP Usman Samaila said about the tragic attack.
"The victim had earlier reported to his parents that some people threatened to kidnap and remove his eyes, but the parents ignored the complaint."

"The parents ignored the complaint by their son; they did not show any concern or report the matter to the police on time. And some weeks later, some unknown persons kidnapped their son and took him away to a distance of about two kilometres before they removed his two eyes and left the body."

"It was the following day that the parents reported the matter to the police station in Keana Local Government Area of the state."
The victim is currently receiving treatment at a specialist hospital in Lafia.