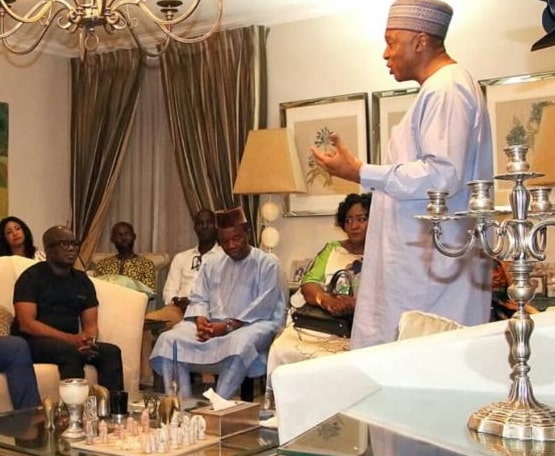 Saraki Hosts Actors Guild Of Nigeria Leaders, Promises To Make Life Better For Nollywood Stars If Elected As Nigeria's Next President
Saraki on Wednesday received top members of the Actors Guild of Nigeria during a courtesy visit in Lagos.

Senator Saraki who described actors and actresses as great ambassadors of Nigeria stated that they deserved to be encouraged and supported and promised to make Actors Guild of Nigeria a priority when he takes office.

He described the current situation where the practitioners are not given the necessary environment to operate as unpardonable.

He told his audience not to be discouraged pledging to initiate all necessary legislative framework towards making this a reality.

He commended the Association for putting Nigeria in global world map of entertainment through its various movies which according to him has received global acceptance.

To him, the welfare of its members should be a priority of any government in power, he pledge to make the industry the number in the world .
AGN President Emeka Rollas informed the Senate President that since the assumption of office by his current Executive ,an Insurance scheme has been put in place to handle some of these dire challenges faced by its members .
According to him in recent past the guild have lost prominent veteran actors to serious illnesses due to certain medical conditions which could have been averted if there was a medium or platform set aside to harness
To him the strength of the association to fund medical treatment of our own or a source for funding from philanthropist or Nigerians to help rescue their legends. Actors like Enebeli Elebuwa, Justus Esiri, Arshely Nwosu, Dave lhesie, Sam Loco Efe, Muna Obiekwe, Peter Bunor, Prince ,James Uche, and host of others have been lost due to certain medical
conditions and whose souls are resting in the bosom of the lord.
The AGN President said recently the Guild lost Chike Osuji in Owerri! ,he will be lad to rest this Friday 14th of September in Awaka Imo state.
In conclusion he said the talent and number of registered members, about two million present in 36 states in Nigeria including FCT, the era of begging money for dying members because of huge medical bills is of the past. The guild has set up the AGN foundation with the sole mandate of generating a five hundred million endowment fund for actors and also serves as a medio give back to the fans (community) by engaging in community.
The Chairman of the Foundation Segun Arinze thanked the Senate President for his kind donation of N5m to the foundation.
Some of the major members at the event were past Presidents Ejike Asiegbu ,Zack Orji,Segun Arinze, BOT Chairman Ifeanyi Dike, Celebrated Movie Director Zik Zulu Okafor ,veteran actor Chinwetalu Agu, successful actresses Monalisa Chinese Cocka,Lilian Bach, Ayo Mogaji,Ronnie Diko and a host of other great actors.