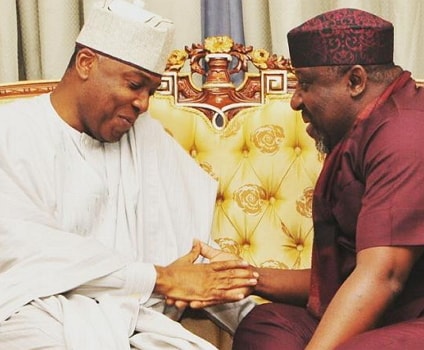 Okorocha Reacts As Saraki Returns To PDP Party, Says Senate President Entitled To Political Opinion
The Chairman of the Progressive Governor Forum and Imo state Governor, Owelle Rochas Okorocha said the defection of the two strong members of the party will not in any way affect the fortunes of the party.
Okorocha said the Senate President was entitled to his political opinion, pointing out that if he has decided to ply his political trade in another party, there was nothing anybody can do about that.
He said "you should have asked me when they were joining the party. Why are you asking me now that they are leaving the party. I don't know when they join the party and I don't have to know when they are leaving the party.
"People are entitled to their opinion about how they see issues. Political party is just a vehicle with which you get to your point of destination and if they found that they can no longer find what they want in APC and wants to go to another party, good luck.

"You are asking me how that will affect the APC. That does not in any way affect the party negatively. The issue there is that President Muhammadu Buhari will win the 2019 election. He is much stronger get on ground now than before in terms of electoral value.

"It is allowed. As they are going, many other people are coming into the party in their thousand. So, it is neither here nor there and so, we should not make a big issue out of it.

Saraki is entitled to his political opinion and if he want to leave, good luck and if the Governor of Kwara, my colleague wants to leave, good luck. They are all responsible me pen and you cannot tie them down to one place."