Crime News
Seven-man Armed Robbery Gang Arrested in Lagos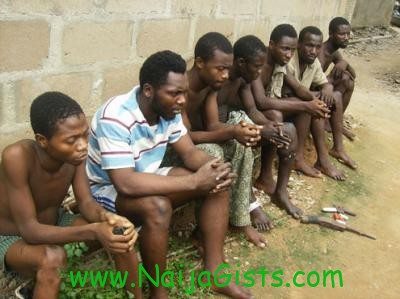 Faces of The Robbers
Nov 17, 2011 – The members of a Seven-man armed robbery gang based in Ikorodu, Lagos have been arrested by the police.
They were arrested  following their attempt to retrieve a Lexus Jeepthey had earlier stolen. The jeep had a mechanical fault and wasabandoned by the criminals after they ambushed the owner last month atMeiran area of the state.
Sunday Bassey, a member of the gang  was arrested by  police officersfrom  the Sagamu Road Police Division who had been on the trail of therobbers. Bassey's confession  led to the arrest of six other members of the gang.
The Lagos State  Commissioner of Police, Yakubu Alkali, while reacting to the arrests  said: "The gang is responsible for 17incidents of car snatching. On August 30, 2011, this gang snatched aLexus Jeep with the registration number RF 836 AA at gunpoint. Thiswas at about 3 pm. The victim claimed that at the time of theincident, he had the sum of N800,000 and €1900 in his car.
"While moving back to their base at Ijede  –Ikorodu, the jeep had aflat tire and had to be abandoned. Already, their victim had made areport at the Meiran Police station and the details of the stolen jeep
were immediately signalled to all police divisions.So, when somepolice officers from Sagamu Road police division, came across anabandoned jeep that matched the details they had, they laid in wait
for the robbers and arrested Bassey who had come to fix the  vehicle,"Akali said.
When the other six gang members were arrested, two locally-madepistols and four live cartridges were recovered from them. A HondaAccord car, which had been stolen months before and had been convertedto their personal use, was also recovered from the suspects.
The case has been transferred to the Special Anti-Robbery Squad for thoroughinvestigation.
"The suspects have given useful information concerning the receivers of the stolen vehicles and investigation is on toapprehend them,"Alkali said. (daily times)