Information Portal
List Of Shipping Companies In Lagos & Port Harcourt Nigeria & Their Websites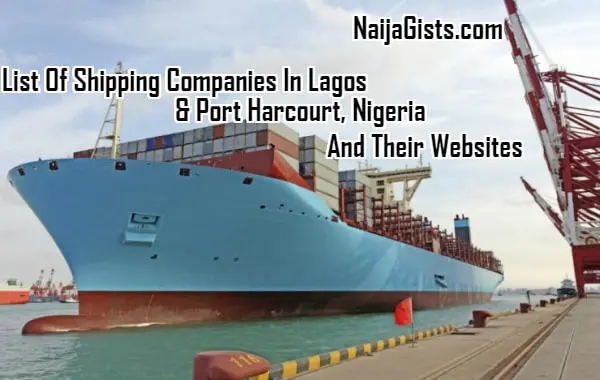 List Of Popular Shipping Companies In Lagos & Port Harcourt Nigeria And Their Websites
Shipping companies are organizations which specialize in the movement of goods. For this purpose they own vessels which they use in moving cargo from one place to another.
Shipping is a method of transport which gained popularity sometime in the nineteenth century and it is a business which many participate in till date. At inception, shipping lines majorly operated on European waters and its environments. It gradually made its way to other parts of the world including Nigeria.
The Nigerian National Shipping Line was a shipping company partly owned by the Nigerian government which kicked off in 1959 and was not fully acquired by Nigeria until 1961. However until its collapse in 1995 due to gross mismanagement, it was never really a match for the likes of the European lines in terms of efficiency and performance.
It took up a new identity of the National Unity Line which was eventually sold in 2005 as it no longer had any vessels to its name only a shipping license. The Nigerian Shipping Line can be termed as a pioneer shipping line in Nigeria.
Shipping companies provide domestic as well as international shipping services. Though the word shipping is supposed to mean the conveying of good over the ocean, it is now being used when referring to the movement of goods by road and air as well.
These companies mostly have structures in place for not only moving goods over the ocean, but also for the movement of goods using railways, roads, and airways depending on certain conditions like location, time frame which goods should be delivered, the nature of the goods, quantity and such. For this purpose shipping companies mostly have shipping agents and agencies which they are in alliance with who carry out such tasks on their behalf.
List Of Shipping Companies In Lagos & Port Harcourt Nigeria And Their Websites
Presently most shipping companies in Nigeria are privately owned businesses and many of these companies usually have their offices located in the regions of Nigeria with large bodies of water.
Shipping Companies In Lagos Nigeria
AdeLove Shipping
The local address of this company is No. 17 Ayodele Okeowo Street, Sholuyi Gbagada Lagos Nigeria. The website is www.adeloveshipping.com. The organization refers to itself as a Cargo Freight Servicing company. It moves cargo from Nigeria to anywhere in the USA and also moves cargo from anywhere in the USA to Nigeria.
They work from Monday to Saturday between the hours of 8am and 7pm. The company reportedly offers various services like: ocean and container shipping which approximately takes between 4 to 12 weeks depending on the location, air cargo shipments takes about 7 to 10 working days and freight services which takes about three to four days.
They provide warehousing facilities and goods distribution as well as delivery services within the country which include door to door. For their various services, the company promises quality performance at affordable rates.
Fortune Global Shipping And Logistics
This company focuses on the movement of goods to and from any destination in the world. They supposedly have partners in about 150 countries in six continents of the world and deliver shipping services to the very last detail. Their website is www.fglobalshipping.com and the office is located at No. 15 irawo Street Ajao Estate Lagos.
It is said to be a top choice in Oil and gas transport services by oil & Gas organizations. The company is well known for efficient purchasing and maritime agent services, rig drilling moves and also supplies management services to its clients.
They provide freight services on a global level to both private individuals as well as companies. By air and by sea they are said to deliver cargo efficiently and even provide customs clearance when necessary and also storage/ distribution functions.
Fortune global shipping offers a protocol service which basically deals with receiving and picking up individuals from the air port and vice versa, booking and making flight and hotel reservations for clients, providing security as well as boarding assistance.
Zenith Shipping Company
The Zenith Shipping Company office is located at 1B Uzochukwu Obelle Close, Alahu Ozumba Estate, Maza-Maza Lagos State and the official website is www.zenithshippingline.com. Zenith Shipping offers shipping services on Land, Air and sea.
They deal in the importation and exportation of commodities by sea as well as by air and also help in providing adequate Custom clearance for cargo.
They have secure warehouse facilities as well as distribution facilities which aid the proper storage of goods and the proper dispatch of cargo however the case may be.
They can be consulted on shipping and maritime issues by other companies or individuals. They also have available trucks and vehicles which they use in the hauling of heavy cargo from one point to another. Zenith Shipping provides door step delivery of goods entrusted to them as an organization if requested.
The company prides itself on having its values rooted in integrity, passion and commitment and boasts of its ability to provide adequate security for cargo put under its care.
GMT Shipping Nigeria Limited
It ships goods all around the world and it focuses on the movement of cargos in bulk but these commodities have to be dry cargo. The office in Lagos is situated at 1B, point Road, 1st floor mall II Pollysonic mall and can be reached on their website at www.gmtshipping.com.
The company promises secure movement of shipments, conveying of cargo and the services of shipping agencies as well as the clearing & storage of cargo and moving them to their final destinations.
Confidence Cargo Limited
The company is located at No. 7 Adeola Ajayi Crescent, Aviation estate air port road, Lagos and their web address is www.confidencecargo.com. It provides services via sea, land/railroads and air. The services of this company are reportedly fast and at the lowest possible cost. The company's air and sea freight is said to have the capacity to handle any kind of cargo regardless of its size or delicate nature.
Goods are moved from Nigeria to their various locations. They also own a variety of vehicles which aids the movement of goods locally to their designated locations. Confidence cargo possesses warehouses and storage facilities for their goods.
Shipping Companies In Port-Harcourt Nigeria
Admiral Marine Shipping Nigeria
The office in Nigeria is located at plot 120 Aker road Rumuolumeni in Port-Harcourt, Rivers state. Their web address is www.admiralmarine.com.ng. It is said to have been in operation for about two decades and has a lot of experience in moving cargo be it heavy duty or delicate goods all around the world. It has several fleets and vessels to its names.
The company provides a number of services. They have connections with shipping agencies in various parts of the world to secure the commodities delivered. The company also provides adequate support for container shipments and clearing through Customs. They can act in ship broker capacity if need be and finally, they own quite a number of marine equipment which are available for lease.
Divine Marine Shipping Limited
Divine Marine Shipping is located at No.10 king Perekule Street GRA phase 2 Port-Harcourt and can be reached at their web address www.divinemarinegrp.com. The company has been in existence for about twenty-five years.
It deals in the shipping of chemicals and general petroleum goods from port to port. It also leases vessels and marine equipment and offers vessel storage services.
It boasts of having a secure system managed by qualified personnel and always delivers on time and at good rates. They can be reached via email at admin@divinemarinegrp.com.
Sailbond Shipping Nigeria Limited
This organization is located at Trans-Amadi No. 66 ordinance road, Port-Harcourt. Website: www.sailbondsshipping.com. They have branches in Lagos, Warri and Abuja.
Sailbond Shipping offers general shipping services like freight services, storage and movement of goods within and outside the country. They are capable of moving bulk and perishable cargo and provide adequate security for it.
Alpha Vintage Cargo Services
Alpha Vintage Cargo can be contact via email at info@alphavintagecargc.com and their website at www.alphavintagecargo.com. The company presently only deals in Air freight shipping and courier management services. It reportedly efficiently handles all kinds of goods which includes delicate and non-delicate.
Khome Global logistics Limited
This organization has the zeal to become the top provider of freight and relocation services and is gradually moving towards it. Aside from air and sea shipping, it also specializes in the packaging and movement of goods in a domestic capacity.
Khome Global manages a relocation service, which helps companies/ private individuals move sensitive gadgets and property either locally or internationally. These products are guaranteed to be delivered safely to their locations and in a timely fashion.
Khome Global also addresses the Custom clearing of goods and several other forms of documentation needed to ensure a hitch free shipment and delivery of cargo. The office is situated at Rumuola Road Port-Harcourt. Website: www.khome.com.ng, email: info@khome.com.ng
List Of Vessel Companies In Nigeria
Below are five vessel companies which operate in Nigeria
Blue Seas Maritime Services Limited
Divine Marine Shipping Limited
Zircon Marine Limited
Admiral Marine Shipping Company
Aquashield Oil and Marine Services