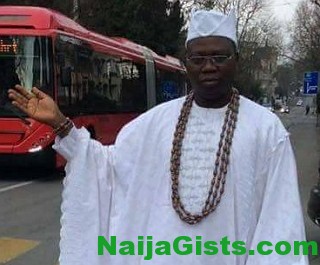 October 17, 2017 – My Take On OPC Leader Ganiyu Adams's Aare Ona Kakanfo Title
By Seun Oloketuyi
It is rather ridiculous that some peeps have taken to social media to bash the incoming Aare ona kakanfo Gani Adams since Sunday when the news broke.
I think we must start to educate ourselves sometimes before we jump on the keyboard to comment,they ask why Gani and I say why not Gani.
Gani just like me and you have his failing as a human being but if you are talking about someone who loves,oromotes the Yoruba culture and leave the Yoruba culture I say he is qualified.
They say what has he done and I asked why do you people run after opc to provide security for your streets,you think it is an easy task to lead thousands in a voluntary organisation,he has ensure that festivals of your villages and towns does not die by sponsoring over 40 festivals in the last 15 years,he has for close to 2 years gone to over 60 countries starting the Oodua progressive union so that yorubas can have a single voice.
I don't work for him,This are some that I know from a distance please let's give it to Otunba Adams Aare himself.