Crime News
Photos: Fatal Petrol Tanker Accident Kills 9 On Otedola Bridge Axis Of Lagos Ibadan Expressway On Thursday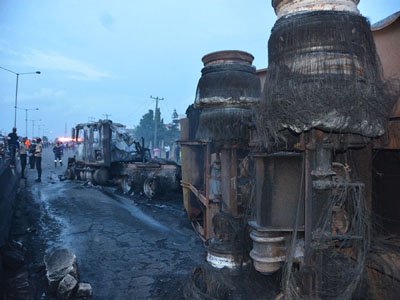 9 Killed, 4 Injured, 54 Cars Burnt As Petrol Tanker Fell, Caught Fire At Otedola Bridge On Lagos Ibadan Expressway
Fatal Accident Kills 9 On Otedola Bridge Axis Of Lagos Ibadan Expressway On Thursday
Thursday was a black day in Lagos as the state lost over 9 people to a raging tanker fire that started from the dreaded Otedola bridge on Lagos Ibadan expressway.
Out of the 4 injured, 2 are said to be critical.
The incident reportedly happened during peak traffic hour just as workers were returning home around 5pm.
Emergency workers had tough time as a monster crowd gathered near the scene of the tanker fire.
It was learnt that a tanker laden with petrol fell while ascending the bridge, spilling its content and caught fire.
Several motorist trapped in their vehicle suffered severe burn while others lost their lives.
See photos from the scene of inferno….