Nollywood
Rose Odika, Lota Chukwu, Arinze Team Up In New Crime Thriller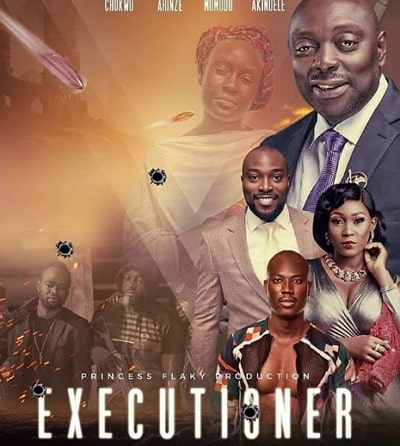 Rose Odika, Lota Chukwu, Arinze Team Up In New Movie
Nollywood icon Segun Arinze has teamed up with other actors like Joseph Momodu, Lota Chukwu, Seun Akindele and Rose Odika to star in a new movie titled 'The Executioner.'

The thriller released on July 26 tells a story of every day suffering masses calling for justice,but the supremacy of the law has been suppressed and extinguished. Those who are supposed to execute the law are the real criminals.

A state of emergency had been declared due to the frequent robbery attacks by a particular gang of robbers. We see a situation where the mother hen must bring out his chicken for justice to be done. Segun Arinze the highly respected Dpo has been given the ultimatum to arrest this gang of robbers tormenting his jurisdiction.

In his bid to carry out his duties,he discovers the unexpected. Cynthia a new detective who has just been transferred to this same jurisdiction has the key to unravel who the real robbers are. Segun Arinze is trapped, he either dances to the tunes of Cynthia the new detective or he faces the consequences and loose his honours of retiring honorably from the Nigeria Police. Heads must roll and heads are rolling.

Will Segun Arinze arrest the gang of robbers? Will justice catch up with him? Find out in this great blockbuster EXECUTIONER.

Talking about what motivated me to write this story,when you look into our society of today you will see that those in charge of power who are supposed to curtail crime and execute justice are either involved in crime themselves or they directly or indirectly knows the real criminals and thereby delay or deny justice. Am talking about a situation where lawlessness has taken over our society. A situation where the cries of the oppressed can not be heard, a situation where those who commits crime walks freely among the people and anyone who dares to challenge them is silenced forever. A situation where the poor and the innocents are made to pay the price of crimes committed by the people in power.

Am talking about a situation where you can recognise and identify the robbers that broke into your home but you dare not make a report,else you are been traced home and silenced forever. These and many more gave birth to this great blockbuster EXECUTIONER.

The movie which was directed by Adewale Rasaq was produced by Princess Folakemi.
https://www.instagram.com/p/B0rAKQ_HwOL/