Crime News
The Nwachinyere Of Lagos, High Chief Nnaemeka Obiekwe Mourns As Police Kill Son, Chigozie Promise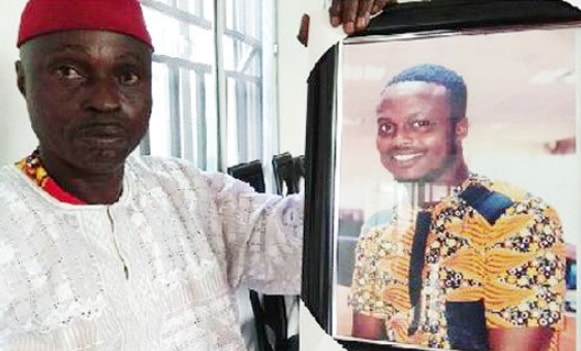 High Chief Nnaemeka Obiekwe, the Nwachinyere of Lagos has narrated how his son, 27-year-old Chigozie Promise what chased to death by overzealous policemen.
According to the distraught father of five, his son was heading to work on the 11th of April and took a bike from Oshodi.
Along the way, some policemen started chasing Okada riders and the bike man that carried him turned back driving against traffic back to Oshodi.
They were hit by a speeding Tipper; Chigozie fell down and the tipper crushed him.
High Chief Obiekwe, who is the Managing Director of Nna Motors Organisation, said the plans of his son to further his study abroad were truncated.
He said:
"My son just died like that. He was working at Guinness Breweries in Ogba. He was going to work. The boy is a graduate. He's a good boy. He finished from Yaba College of Technology (YABATECH). He had Higher National Diploma (HND) in Hospitality. It's a painful departure because he's my first son. It pains me that things are going the other way round in this country."

"Chasing Okada riders on the road is not in tandem with modern way of securing the state. It happens in many places especially all these Task Force men chasing Okada riders in order to impound their motorcycles. They should realise that people are struggling to make a living. There is poverty and hunger in the land. People want to survive.

"They can fashion way out if they don't want Okada on the road again. Let them withdraw their particulars or ban them totally. That will be better than to be chasing Okada on the motion or rounding them up dangerously.

"My own son has died. Who knows who the next victim could be? The media should help to educate the police on how things are done in advanced countries."

"He was a humble person. He is my hope. I'm looking forward that he would take care of me at old age, but see what our policemen done to me. It's a very painful situation. He wanted to further his education overseas. I don't even know what to say more. He's minus one from the people that have great prospects for Nigeria in the future. He's minus one in whatever I will be in the future. He's minus one in whatever my family will be in the future."
The Nation.