Hot Gists
6 Things To Miss About Nigeria: What Nigerians Living Abroad Are Missing Badly!!!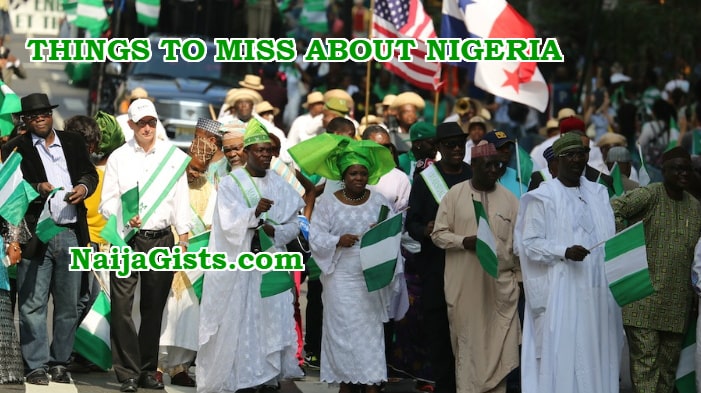 6 Things To Miss About Living In Nigeria: What Nigerians Living Abroad Are Missing
Am already missing Nigeria few more days to my departure.
We are leaving on Sunday and I wish something can happen to change the date.
Another wish of mine is to hit it big and be able to afford N800million posh mansion like Linda Ikeji **wink**.
Since I'm not there now yet, I will have to work harder to make it to that realm. Even though I don't have a Sholaye Jeremi or a big politician to sponsor me like LI is doing, I believe in self-made pursuit of wealth and not a quick fix.
(A big Kudos to all the self-made women out there who never depend on big fat pockets for wealth).
My goal in the next 4 years is to solve more problems and make the world a better place and by doing so, I believe I will find wealth.
How will I achieve? I will do this by tapping into my inner creativity to find solution to problems.
I will also make this happen by doing research, reading books and taking decisive actions.
Enough of talking, guys here are some cool things I will miss about this lovely country
(1) 24/7 access to friends and family members
Having lived in Canada for sometimes before relocating, life over there is not that cool. Everyone is busy pursuing money. They all live life on fast lane.
It is not like that in Nigeria, you still have people to care about you and friends you can really trust.
(2) Church
There is no way to compare service to God abroad to that in Nigeria… Church is more fun in Nigeria. People are more relaxed and friendly but over there, it is a totally different ball game.
(3) Cheap & Good Hair Do
Chai!!! Hair-do is very expensive in the western world and people don't really know how to make hair like in Nigeria. In Nigeria, I have different options but over there, hair dressers too do yanga because the good ones are scarce.
(4) Quality Education
My children will miss the education system in Nigeria like no other. That alone is giving me headache. I love the education system in this country.
One thing I have come to appreciate about Nigeria is that our teachers are the best. They teach over here not like in the western world especially for kids.
(5) Culture
I will miss our culture.
The western culture has forced so many Africans to lose their culture and identity. I don't really like that.
From the look of things, I see myself returning to Nigeria soon.
(6) Natural Food & Owambe parties
Choi!!! See my life.
I will miss my correct my Naija food. This one alone is making me cry.
I have packed and packed and packed, I have no where to put them. I will miss my Ogbono soup, Egusi Soup, Garri Ijebu, fufu, fresh vegetable, party jollof rice, …the list goes on and on and on.
If not for my present health challenge and my husband insistence, I will not leave this beautiful country.
I love you all.
Thanks for all your prayers and to all who offered to sponsor our flight, we really appreciate you.
I'm overwhelmed by the love I received from great fans all over the world in the past 5 days.
Nigerians and Africans in general are great people, they are compassionate and caring.
May God greatly reward you.
Please let's keep in touch through this medium.
To get updates from NaijaGists.com, please register using the form below
Will love to see all of una during my 40th birthday.
I will communicate full details through this medium soon.
Have a blessed day and remember to cheer up! because God is on your side.
What Many People Are Missing About Nigeria (VIDEOS) 
https://www.youtube.com/watch?v=weKki2VzL70
[Our last minute office restructuring ended today so NaijaGists.com news update will return fully today].
To further strengthen our operations, we have hired 12 full time office staff and 8 field reporters.
Follow NaijaGists.com on Facebook and Twitter.