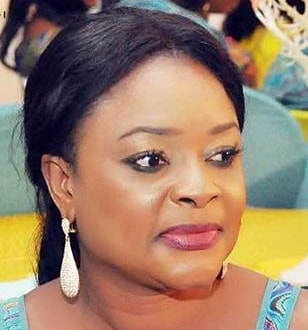 See excerpts of Nollywood actress Toyosi Adesanya's recent interview with YMG Magazine Editor Gbolahan Adetayo.
What's new about you lately?
I will like to say that I am flourishing in my chosen career. I produce more movies to entertain and educate our audience to learn new things about life. I am also still waxing stronger in the industry so that the face will not fade out. This is the job I learnt and I know it so well. We are giving our best to take the Nigerian entertainment world to zenith. Above all, I still put in my best to keep my marriage.
Can you share with us some of the things you are putting together lately to take the industry to the next level?
Looking at the industry, it has taken a new shape, we now produce sitcom, soaps and what have you. This is technology era and we need to follow the trend. If we can't beat them, definitely we have to join them. Remember it was home video before it became VCD and DVD. Now it is Africa Magic and online TV. People are no longer buying movies like before, they now prefer Africa Magic and I can tell you categorically that we the movie makers caused it. Though, the more they show our movies, the better people get to know us more but yet, it affects us in some areas.
Can you show us how you get affected by Africa Magic?
Before now, when I visit my home town, you see aged people watching like six or eight movies a day. In fact, they will be clamouring for more. But today, they only rely on Africa Magic. Now, how do you expect us to sell the ones in the market? It is now difficult because viewers now have another avenue to see our jobs.
How do you think the industry can correct this?
There are different ways to correct such. Firstly, we can't do without the marketers, and likewise the marketers, they feed from our jobs. We should be one big family and work together. The mistake is from the movie producers because everybody wants to produce now. If you have a good job, you will be proud to make order on what you want about your movie. But if it is wishy washy, my dear you won't know which way to follow. This is not how the industry started. We need to sit ourselves and re-strategize. If we follow the normal process, things will come back to its usual shape. In the past, when marketers give us two million naira to produce for them, some of us won't monitor the job at first, all they do is to acquire a car, and alas they produce wishy-washy. We were the one who taught them to be buying the right from us, they will also owe us and they won't pay. We all contributed to the mistakes. Most of the movies you see on Africa Magic were being sold to them by the marketers. That was why I said we taught them. Before, after shooting the movie, the producer, director and concerned people will be at the studio for editing and proper productions, but today the marketers are the ones undergoing the stress alone. We are no longer interested in that again, all we do now is to sell our fine faces on social media. We go after big cars and how to live a flamboyant life style rather than facing what put food on our tables.
Could that be the reason we see a lot of errors in most Nollywood movies?
Yes, because the producer no longer monitor his job. He/she leaves that for the marketers to handle. Some of us don't screen play our movies again before shooting them. Many of us want to be an investor but we don't have the prowess to do it diligently.
Are you working of any movie at the moment?
Yes I do. We are currently on one called Adehun Olorun. We are at the moment shooting it in Osogbo, Osun State with the likes of Femi Adebayo, Laide Bakare, Adebayo Salami, Madam Saje, Fathia Balogun, Kunle Afod and I. Directed by Adebayo Tijani and produced by Toyosi Adesanya Ileyemi. It is a story that talks about men endurance when their wives are looking for the fruit of the womb.
How long have you been acting?
I am 25 years in acting this year. There are several challenges but I still have to give glory to God almighty. There is no profession in this world without challenges. I don't see them as challenges again but knowledge which is now helping my career today. I trained at Odunifa caucus in Lagos for ten years. I learnt how to dance, act and sing. I became 25 in acting in April 20th 2018. I joined the caucus in 1993.
Why didn't you celebrate it?
Celebration is still coming up in future. Let the likes of the veterans in the industry celebrate theirs to some extent. I am just a beginner, I want to achieve more.
How did you even join?
I went to Odunifa caucus and I obtained the form with N3500 in 1993, it was stage performances then. If you don't know how to dance and sing, you will not be allowed to participate, unlike today.
You produced a special track for Moji Olaiya after her departure, how did you get the inspiration?
Unknown to many, I am a good singer. I sing so well before I joined the industry, and after I got to Odunifa caucus, I acquired more knowledge about music. Subsequently, I joined Razaq Olayiwola aka Ojopagogo for more training. With the help of Tajudeen Gbadamosi, Salome, Ayo Oluyemi, Biodun Adekanmbi and co, God really crowned my effort.
Do we see you in future releasing an album like your colleagues?
I have produced one which I am not ready to release for now. Even when I was in America, I did one. I just have passion for music but I don't see career in it. If I go back to America, I will release anyone I do now.
How do you marry your work with your marriage?
It is the grace of God in the first play, and secondly, I have an understandable husband who respects the nature of my job. For that reason, I promised not to pass my boundary. If I tell him I want to spend five days at location, I will make sure that it didn't go beyond that.