Crime News
Abule Ado Lagos State Explosion Caused By Ruptured Pipeline – NEMA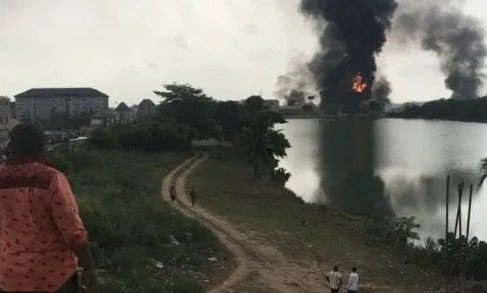 Abule Ado Lagos State Explosion Caused By Ruptured Pipeline – NEMA
The National Emergency Management Agency, NEMA has revealed the cause of the tragic overnight explosion that claimed 20 lives in Lagos state Nigeria yesterday.
According to NEMA SW coordinator, Ibrahim Farinloye, a truck mounted on the pipeline overnight made the product in it to forcefully rupture and form a grey cloud that later exploded.
This explanation was given by security operatives during a meeting with the Deputy Governor Obafemi Hamzat at the scene of the incident.
He said contrary to fears that the explosions were caused by bomb blast or Improvised Explosives Devices (IED), preliminary security analysis showed that it was too much pressure exerted on the pipeline by the over eight-tons truck laden with core stone.

The NEMA boss also ruled out insinuations that the gas plant was responsible for the explosion, explaining that it was fuel that escaped the pipeline that saturated in the atmosphere, formed a whitish substance that exploded.

According to Farinloye, the truck stayed on the pipeline overnight and exerted too much pressure on the pipeline.

He said the effect of the explosion was massive because the entire area is swampy which resulted to sinking of some of the structures.