Crime News
Wicked Policemen Who Killed Ebonyi Prince, Son Of Bedridden Nigerian King Arrested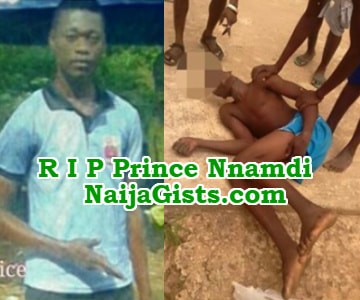 The policemen behind the tragic murder of the son of ailing Abaomoege King, Prince Kelechi Ineke in Abaomege area of Onicha Ebonyi state have been arrested.
New details released by friends of the deceased revealed that the late Prince has been in a rivalry war with a Police DC O who has been stalking  his girlfriend for a while.
He was arrested following a street brawl with the son of Police inspector Umet Ekwe and was denied bail.
Sadly, his case was handled by his rival, Police DCO Eze Brendan Ikechukwu from Nsukka Enugu state who used the opportunity to torture him and strangled him with a rope before reporting that he committed suicide in the police cell.
Sources in Onicha accused the killer DCO of taking advantage of the ailing king to murder his son.
Late Prince Ineke's father, HRH Eze Gabriel Ineke, the Echemugo 1 of Abaomege is very old, sick and bedridden. He is currently on life support in the hospital.
Meanwhile, all the officers involved in the death of the Prince were few days ago placed in handcuffs and taken to Abakaliki on the order of the State's Police Commissioner.