Hot Gists
Woman Smuggles Cobra Snake Into PDP Rally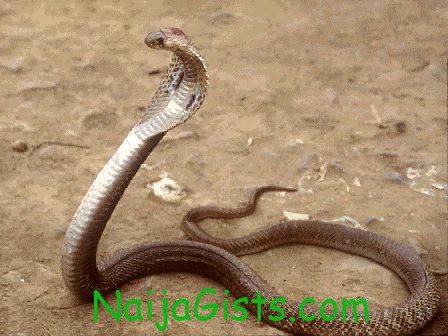 June 18, 2012- Woman Smuggles Cobra Snake Into PDP Rally
An attempt by a woman to smuggle snake into the Samuel Ogbemudia stadium-venue of Peoples Democratic Party (PDP) campaign rally in Benin on Saturday was foiled by vigilant policemen a the gate of the stadium. naijagists.com
Vice President Namadi Sambo, national and state leaders of and several thousands of PDP had convereged on the stadium to officially kick-start the election campaign of the party's candidate in the July 14 governorship election in the state, Gen. Charles Airhiavbere (retd.)
But the timely interception at the main gate of the stadium by policemen at the gate of the stadium averted what could have created a chaotic atmosphere, had the woman escaped into the stadium with her deadly package undetected.
The snake woman, adorned in purple top and blue pair of trousers, in company of three young men, attracted the curiosity of the mobile policemen screening those going into the stadium when she attempted to jump the long queue.
Upon interrogation, the snake, a cobra measuring about one metre was discovered in a white round transparent plastic container with perforated lid in the hand of the woman who spoke in Pidgin English and Hausa languages.
The security agents however saved the woman from the wrath of the angry crowd who attempted to mob her.
She was however ordered to leave the vicinity of the stadium while still clutching her snake in her hand.
In an attempt to take the photograph of the snake and speak with the woman and her companions, she angrily threatened to open and release the reptile if she was not left alone.