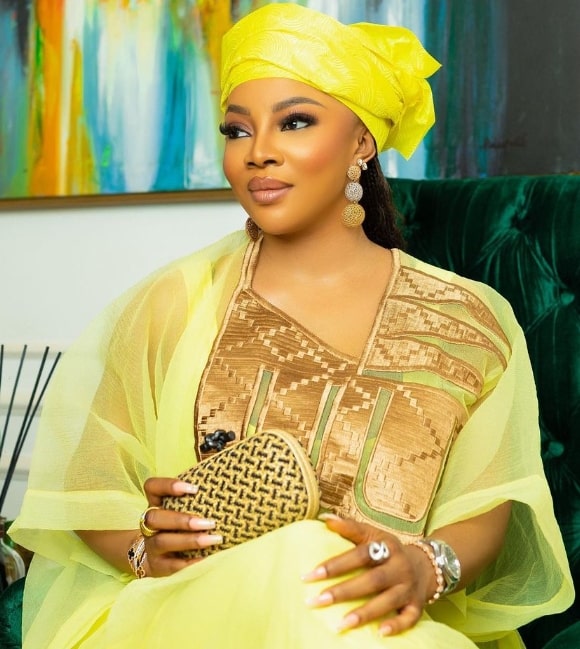 Toke Makinwa Reveals She Might Have Stayed in Marriage with Maje Ayida for the Sake of Children: A Deep Dive into Choices and Compromises
In an eye-opening revelation that has got everyone talking, media sensation Toke Makinwa has pulled back the curtains on her own life, sharing her perspective on marriage and the "what-ifs" that sometimes haunt our choices. Toke Makinwa, who has never shied away from speaking her mind on matters close to her heart, delved into the intricacies of her dissolved marriage with Maje Ayida, the fitness mogul she was once entangled with in the sacrament of matrimony. The pair had their "I dos" exchanged in the year 2014, only to part ways three years later, in 2017.
Toke's recent statements have led to a broader conversation about women who find themselves in less-than-ideal matrimonial situations. She candidly expressed that if children had been in the picture during her union with Maje, she might have been one of the women who persevere in their marriages solely for the sake of their offspring.
"Let me tell you something," Toke began, "We hear of countless women who affirm that their marriages have long expired, yet they hold on, clinging to what's left solely because of their children. And if I'm keeping it 100%, had I brought a child into the world while in the confines of that marriage, I could very well have found myself in that same boat."
The television host and style icon also touched on her own background, shedding light on the deeper emotional complexities that shaped her views on family and commitment. Toke lost both her parents at the tender age of eight and was subsequently adopted. While grateful for her life's trajectory, she mentioned that there have been moments when she wondered about the road not taken, the life that might have been hers under different circumstances.
"You see, life dealt me an intricate hand," she said. "Losing both parents at that formative age and being adopted meant that I had my share of struggles with identity and belonging. Don't get me wrong—I couldn't be more thankful for the life I've been blessed with post-adoption. However, there were times, sitting alone, when my mind would wander off to the life I could've had, the life that could've been if fate hadn't taken its course."
Toke continued, "Because of my personal history, the significance of having a stable home for my hypothetical children would have weighed heavily on me. In a parallel universe where Maje and I had kids, I would have possibly swallowed the bitter pill and remained in the marriage, just so my children could grow up with both parents present. And let's be clear, I am not standing on a pedestal judging anyone. These are the nuanced realities many women face."
Toke's revealing statement has set the internet on fire, prompting mixed reactions from fans, followers, and critics alike. Some have lauded her for her honesty and vulnerability, while others have raised eyebrows, questioning the social implications of her views. But whether you agree with her or not, it's undeniable that Toke Makinwa has once again succeeded in steering public discourse towards issues that many often prefer to sweep under the carpet. She's opened a Pandora's box, igniting a dialogue that society needs to have, especially in a culture that often hushes the woman's voice when it comes to the complexities of marriage and familial responsibilities.
In a world that is quick to impose societal norms and traditions on women, Toke Makinwa's take is an invitation for all of us to pause and reflect on the deep-seated reasons why many women choose to remain in marriages that have deteriorated beyond repair. It's a reality check that prompts us to ponder the costs of compromise and the price of stability, especially when the emotional and psychological well-being of women is at stake.
And so, while she remains a polarizing figure in the realms of Nigerian entertainment industry, one thing is crystal clear: Toke Makinwa is unafraid to use her platform to challenge the status quo, inspire meaningful conversations, and empower women to think critically about their life choices. Today, she has given us much to ponder, as her insights beckon us to explore the multifaceted layers of marriage, compromise, and the ever-complicated human condition.
Related Topics:
Broken Marriage, Children in Marriage, Divorce in Nigeria, Emotional Complexities, Emotional Wellbeing, Familial Responsibilities, Familial Stability, Family Dynamics, Life Choices, maje ayida, Marriage Compromise, Marriage Dissolution, Matrimonial Decisions, Media Personality, Nigerian celebrity gossip, Nigerian Culture and Marriage, oke Makinwa, Parental Presence, Personal History, Public Discourse, Public Reaction, Social Norms, Stable Home, Unhealthy Marriages, Women's Choices