Political News
Wole Soyinka Slams Peter Obi & Labour Party For Propagating Falsehood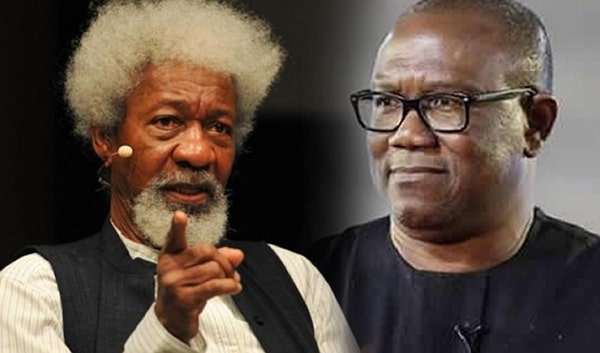 Nobel Prize Winner Wole Soyinka Dismantles Claim of Peter Obi's Electoral Triumph
Wole Soyinka Slams Peter Obi & Labour Party For Propagating Falsehood
In an explosive discourse at an international gathering, the celebrated intellectual insists that the Labour Party's assertion of victory is fundamentally flawed.
STELLENBOSCH, SOUTH AFRICA—Yesterday, Nobel Laureate Wole Soyinka found himself once again in the center of a political maelstrom as he openly challenged the authenticity of Peter Obi's purported victory in the February 25, 2023 presidential election. During an illuminating session at the Stellenbosch-hosted event "The Lives of Wole Soyinka – A Dialogue" by Africa in the World, Soyinka vehemently repudiated the narrative advanced by the Labour Party (LP) surrounding the electoral outcome.
As he took to the stage, the atmosphere was thick with anticipation. Wole Soyinka is not a man known for mincing words, and the audience knew they were in for an intellectual treat. It was at this critical forum that Soyinka dissected and dismissed claims by the Labour Party concerning Peter Obi's supposed electoral victory.
"If truth be told, this election has unveiled multiple layers of dishonesty and audacity," he began. Soyinka was questioned about his earlier remarks opposing Datti Baba-Ahmed, the Labour Party's vice-presidential candidate, which he made subsequent to the general election. "Truth matters; it always has. People seem to forget that often and seek the easier path of deception," the Nobel Laureate affirmed.
Drawing parallels to his audacious 1965 occupation of a radio station in Ibadan, Soyinka emphasized the power of firsthand information. "Back then, I was armed with facts, not hearsay or third-hand rumors. I acted based on verified information concerning the controversial result of the 1965 regional election," he elucidated.
What Soyinka found most astonishing was the LP's calculated maneuvering within the labor movement leading up to the elections. "The party strategically colonized the labor movement and mutated into a regional political entity," he said. While this strategic shift indeed disrupted the prevailing political duopoly, it also exposed a grim underbelly.
"Peter Obi did something unprecedented," he admitted. "He shattered the monopolistic political landscape long dominated by the All-Progressives Congress (APC) and the People's Democratic Party (PDP). However, let us be abundantly clear: Peter Obi did not win this election."
According to Soyinka, not only did Obi's party fail to secure a victory, but it also did not even come in second place. "I can assert with confidence that Peter Obi's party came third. The LP leadership is fully aware of this, yet they persist in propagating falsehoods."
In Yoruba culture, Soyinka explained, this act of forcing lies onto others is referred to as 'gbajue.' "They had intentions of inciting the youth to protest, under a banner that is stained with deception," he said. "I would happily march alongside any demonstrators, provided it is in the cause of truth and not built upon a foundation of lies and deceit."
Soyinka pointed out a rather disturbing trend that has been emerging: the intimidation tactics employed by members of the LP. "The vice-presidential candidate was on television, boldly issuing threats and attempting to coerce both the judiciary and the public," he said. "What quality of governance can we expect to arise from such conduct?"
Towards the conclusion of his talk, Soyinka dropped another bombshell, alluding to the involvement of clandestine forces in the electoral proceedings. "Before the elections even commenced, there were secretive elements, including retired military generals and even university proprietors, advocating for an interim government. These people are not unknown; they are recognizable figures," he warned.
What remains abundantly clear is that the intellectual luminary does not stand alone in his quest for truth. "Facts are sacred, and they shall prevail," he concluded, his words reverberating in the hearts and minds of all those who listened.
Related Topics:
2023 Presidential Election, Africa in the World, apc, Clandestine Forces, Datti Baba-Ahmed, Election controversy, Electoral Fraud, Electoral Outcome, Intellectual Dialogue, Interim Government, labour party, Nigeria Politics, Nigerian Elections, Nobel Laureate, pdp, peter obi, Political Commentary, Political Monopoly, Public Discourse, Regional Politics, Retired Generals, Stellenbosch, wole soyinka