Information Desk
Youths Unemployment In African Countries 2018: The Monster Behind High Rate Of Crime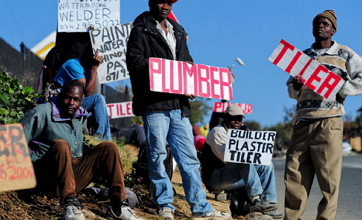 By Adejuwon Gedion
The bane of unemployment in the world today has reached an alarming rate that if solutions and a lasting one is not found it could and can cause serious problems to human existence.
What is unemployment and what is it implication to our lives? Unemployment according to oxford dictionary It is a state of being not engaged or without a paid job, but available to work. Of course, unemployment is termed joblessness. This is a social problem with its resultant effect on every other areas of our human existence.
This article will anchor on unemployment of the youth in the world and Africa as a case study. Yes! Unemployment is a monster ravaging the old and the youth alike of this continent. Going by the statistics of international labour organization (ILO) as at 2012 to 2013 the population of unemployment has grown to 12% of the population of the youth of which the larger percentage is coming from South African and Nigeria.
This large number of unemployed youth in Africa is the reason for youth unrest, criminality and all sort of social vices in the continent. Now, why unemployment in African countries, why is it rampart amount the youth? Is it that the continent has no resources to generate employment? No! one of the reason for unemployment in the continent is: failure of the government to review the education policies to meet up with the international standard. The education system in most African countries is obsolete; it cannot meet up with the fast growing technology of our time, most teaching are theoretical base and without practical back up. The educational policies are archaic and cannot meet up with the present day realties.
Today, the system of our education needs to be totally overhauled with entrepreneurship and vocational studies to enable the teaming youth graduating from our higher schools to be self-reliance and not to wait to be employed by the public and private organizations.
Yes as mentioned earlier that population growth in African continent has grown geometrically, especially for the youth. This is as a result of government failure to fashion policies that will regulate child bearing as it is done in other countries such as china and India. The government cannot provide for all it citizens but policies that will enable the citizen to live comfortably is her responsibility.
Unemployment is a problem largely accountable by the government to face head- on. Failure to plan ahead of time by the government is another reason for unemployment in the continent, planning is a very important ingredient of any nation or continent to see to the wellbeing of her citizenry. Most Africa leaders failed to plan even when the resources are there, the resources are being mismanaged or they ends up in private pockets. You cannot eat your cake and have it" most countries cake had been eaten by their leaders and want to have it.
Wrong indoctrination, this is what I called illiteracy of the 21st century lot of unemployed guys fell in to this category. Wrong indoctrination by some sects as brainwashed some youth not to embrace western education as in the case of Boko Haram in Nigeria. Lot of youth are been brainwashed to abandon the western education that will liberate them and choose to cliff to Boko Haram that will enslave them.
Lopsided policies of the government that discourage foreign investors has added to the prevailing unemployment rate of the youth. Foreign companies are yearning to invest in most of these countries but the policies of the government are not friendly at all, these restrict the would be investors from coming in to such countries to invest their hard earn money.
Summarily the monster called unemployment in the world And Africa in particular is a reason for underdevelopment, criminality and other sort of social vices, which must be handled with utmost seriousness by our leaders.