Crime News
136 Pirated Copies Of Hausa Translation Of The Holy Bible Seized By NCC, 10 Pirates Arrested At Jos Bookshops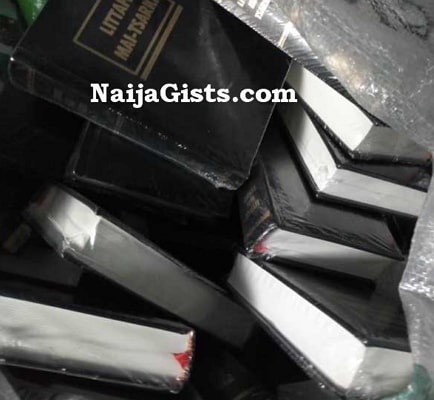 10 Pirates Arrested At Jos Bookshops As NCC Seized 136 Pirated Copies Of Hausa Translation Of The Holy Bible
10 suspects were arrested on Friday in Jos, Plateau state following an anti-piracy raid carried out by the Nigerian Copyright Commission at different bookshops in Jos Plateau state.
The commission said the impounded products were pirated copies of the Revised Standard, Hausa Translation and King James versions of the bible.
The suspects were arrested at bookshops on Ahmadu Bello Way, Terminus, Rwang Pam Street and Bukuru following a complaint of infringement of copyright protected titles lodged by the Bible Society of Nigeria.
The suspects who were detained at the C Division of the Nigeria Police Force in Jos included Ebuka Okoye, Onyinye Ohaji, Christian Greg, Ambrose Shallong and Godwin Erem.
Others are Onyinye Anyache, Ignatius Ogoz, Nkechi Ugwu, Esther Ezenwa and Onye Abel David.
The Deputy Director of NCC in Bauchi Operational Office (in charge of Bauchi, Plateau and Gombe), Vincent Oyefeso, told Northern City News that the suspects would be prosecuted after investigation.