Crime News
30 Black Axe Cultists Arrested During Initiation Of New Members Inside Epe Forest In Lagos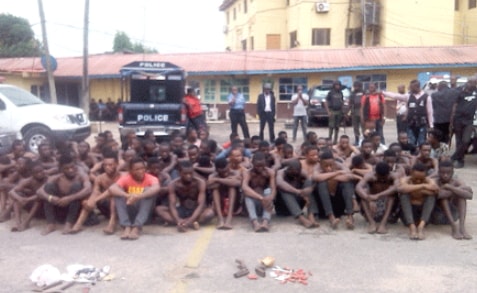 At least 48 suspected cult members have been arrested by the Lagos State Police Command.
Among the suspects were 30 rounded up inside Epe forest on June 23, said to have come from other states for initiation into the Black Axe confraternity.
The others, the police said, were arrested at Ijora-Badia, Iponri, Dopemu, Ejigbo and Isolo areas of the state.
According to Police Commissioner Imohimi Edgal, the suspects were between 15 and 29 years, adding that the Epe group were more than 100 who converged on the forest for initiation rites.
Edgal said:
"Credible intelligence available to the command revealed that the suspects were conducting initiation rites for new members into Aiye confraternity inside the forest. We moved in and the fled. Some jumped into the swamps but we were able to get 25 of them that ungodly hour.

"Since we arrested them, some of their parents have been coming to beg for their release. I asked them why they were begging for their release that they are underage? I have said it before that parents no longer pay attention to what their wards do. Some of these boys were out of their homes for two days. Does it mean those parents did not bother to know where their children were those days? I will continue to hold parents accountable for their children and wards. Anyone who wants to engage in cultism in Lagos should be ready for fight. We will not allow our soil to be used for such menace."
One of the suspects, John Jano, 22, a Togolese, denied being a cultist, insisting that he was apprehended while on his way to work.
He said:
"I live in Epe and work at Ajah. That Saturday morning, I was in my way to work. I was arrested inside a bus. The police stopped our bus and ordered us to come down.

"They beat us without telling us what we did and then took us to the police command. Now what I hear them say is that we are cultists. I am no cultist."
Another suspect, Emmanuel Eyo, 17, said he went to Eleko to visit a friend and was on his way home when they arrested him.
He said :
"I was arrested around 9am. I went to see a friend at Eleko and was going back home at Lakwe when policemen stopped the car, told me to come down and brought me to Ikeja.

"I am a student of Bridge Success Secondary School (SS2) and my exams start on Monday. They have not allowed me call my mother. No one knows where I am. I want to go home."