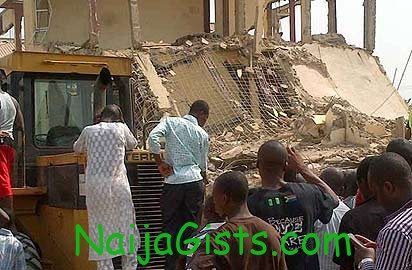 June 13, 2012  – Abuja: 4 Trapped In Collapsed Building
3 people have been rescued from the rubble of a building which collapsed in Apo Mechanic Village are of Abuja this morning, the National Emergency Management Agency has confirmed.
Those living around the area however said there are at least four people still trapped in the rubble.
Yushau Shuaib, spokesperson of NEMA who confirmed the incident, said in a statement that those around the vicinity of the collapsed building helped to rescue the trapped persons who have been taken to the hospital.
He however said he cannot confirm if there are other people trapped in the building.
The NEMA spokesperson said his agency has moved equipment to the site of the incident to clear the rubble and for possible rescue of any trapped persons.