Crime News
Alleged Fraudster Akinkunle Olunloyo Not My Father's Son, He Is My Cousin – Kemi Olunloyo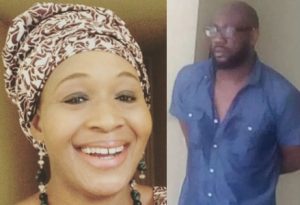 Kemi, the daughter of former Oyo State Governor, Dr Victor Omololu Olunloyo, today shed light on the circumstances leading to the N40 million fraud charge the police brought against her cousin, Akinkunle Olunloyo last Friday.
Kemi said Akinkunle was defrauded of part of the N40m by some of his friends, who are now on the run.
She told The Nation that Akinkunle, a former night club owner and Chief Executive Officer (CEO) of Code Media Ltd, had repaid N26 million to his creditors.
According to the police, Akinkunle committed the offences in Lagos, "sometime in November 2014," in connivance with unnamed accomplices.
Kemi said: "Akinkunle owned a night club and when the economy nosedived, he sold it. He wanted to invest the money from the sale in a new venture: entertainment hall business. That's what he wanted to do.
"Some boys, his friends that he thought were trustworthy, met him and advised him to take a bank loan. They promised to assist him through the process. But when he got the loan, the boys made away with part of the money. They did not give it to him. The debt should ordinarily be owed by everyone involved in the loan deal, but the others are on the run. Nobody knows where they are, so he is the scapegoat for the offence."
On Monday, it was widely reported that Akinkunle was a son of Dr Olunloyo, a mathematician who left office after three months as governor in December 1983, following a military coup.
But Kemi, a pharmacist and blogger, clarified the controversy surrounding Akinkunle's identity and his relationship with her father.
She said: "My grandfather, Horatio Olunloyo, who owns Molete House in Ibadan, had five children: three girls and two boys. The 'boys' are my dad, Dr Victor Omololu Sowemimo Olunloyo, and his brother, the late Prof. Vincent Olusegun Sowemimo Olunloyo, or my Uncle Segun, as I call him. My dad is the older sibling, Uncle Segun was the third born. Both sons have the same initials: V.O.S. Uncle Segun was famous in his own right. He was a top engineer, very popular at the University of Lagos, where he lectured. He died last October after an illness and was buried last December.
"Akinkunle Olunloyo is Uncle Segun's second son. So, he is my dad's nephew and my cousin. I saw him just after he was born in 1978. It was the last time I saw his mum and his two siblings. So, when I saw him being identified in stories online as my dad's son, i.e. my 'brother', it was really weird.
"Akinkunle's mother is Mrs Joko Olunloyo, wife of Prof. Vincent Olusegun Sowemimo Olunloyo. But they divorced after some years, so I don't know if she's still uses Olunloyo. I call her Aunty Joko.
"Aunty Joko told me Akinkunle has paid back N26 million out of the N40 million, so he owes something like 13 or 14 million naira."